Monsoon Special Mixed Vegetable Pakora Recipe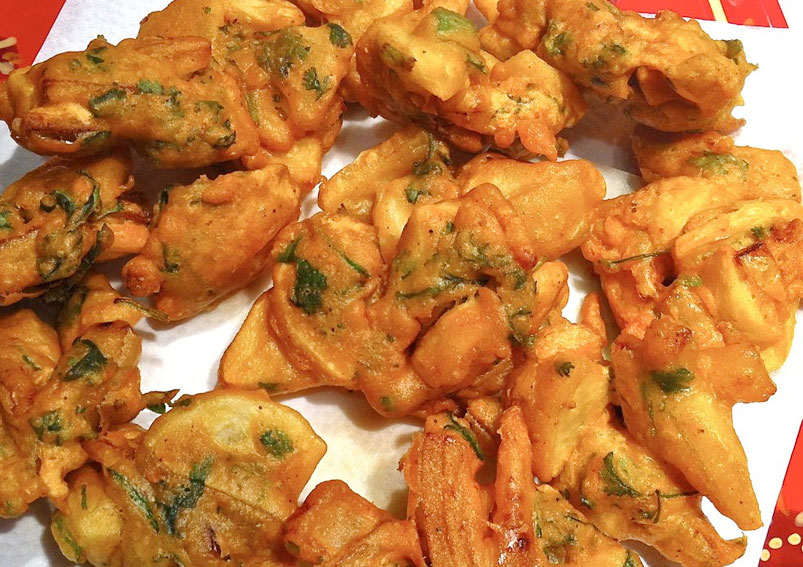 Try this crispy and tasty Vegetable Pakora Recipe and have it as snacks with your family members during a cool evening. This is one of the tastiest snack dish and also healthy as fresh vegetables are incorporated with the mixture of Gram flour.
Ingredients
1 largeCarrots
6French beans
2 small potatoesPotato
1/4 headCabbage
1 cupChick flour
½ teaspoonRed chili powder
¼ teaspoonGinger garlic paste
½ teaspooCarom seeds (Vamu)
for fryingOil
Saltto taste
Water
2 teaspoonsHot oil
Directions
Cut all the vegetables in to thick julienne and place them aside
Add chick pea flour, salt, chili powder, ginger garlic paste, carom seeds and hot oil in a bowl
Add some water and so that it forms a thick paste just like pakora mixture
Add the chopped vegetable pieces to the mixture and mix them well
Place a heavy bottomed pan on flame and add oil to it
Once the oil is hot, drop the vegetables coated with chick pea flour in hot oil
Drop as many as possible. Do not over crowd the vessel
Use ladle to turn the vegetable pieces so that they cook all over perfectly
Once the chick pea with vegetables turn golden brown in color, remove them from oil and place them on oil absorbent paper
Have them as evening snack with a cup of Spicy Masala Tea.
Adjust the Chickpea Flour according to the vegetables. For better taste add roasted cumin powder along with chopped curry leaves to the batter.
-Neelima
This Recipe Rate :
(0) Reviews