Kerala Style Plum Cake Recipe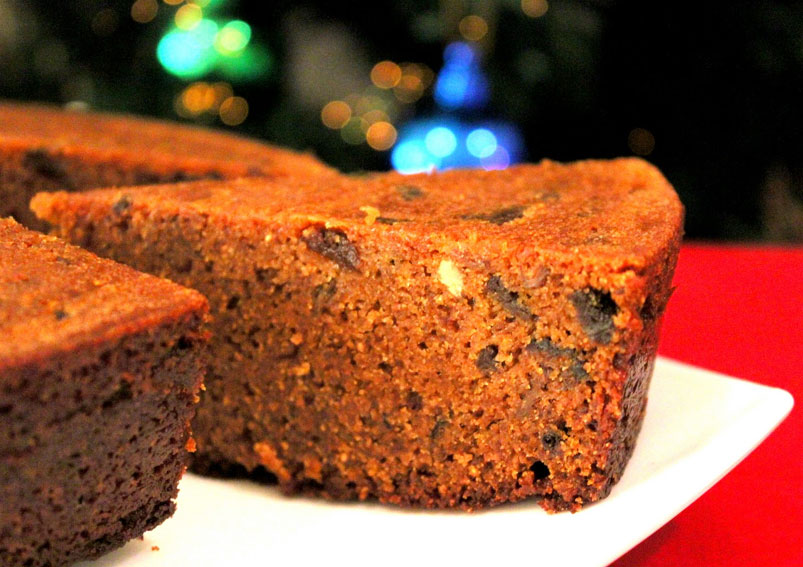 Kerala Plum Cake recipe is a very simple cake recipe with just few ingredients. Try this Moist Plum Cake Recipe on Christmas special day for your family members. Definitely, this wonderful recipe turns to be moist, delicious and soft.
Ingredients
1 cupPlain flour
1 ½ cupsWhite sugar
2/3 cupButter
3Eggs
1 teaspoonBaking powder
1 teaspoonVanilla extract
pinchSalt
½ cupCashews
¼ cupRaisins
¼ cupMixed dry fruits
1Clove
1Cardamom
small pieceCinnamon
pinchNutmeg
Directions
Place a pan on flame and add ½ cup of sugar along with 1 tablespoon of water to it
Heat it on low flame. Make sure not to over burn the sugar mixture
Melt the sugar and heat it till the brown caramel liquid is formed
Add ¼ cup of warm water to the sugar solution and off the flame
Set it aside and cool it completely
Chop the nuts to small pieces and mix them with 3 tablespoons of flour
Set them aside
Mix the flour well with baking powder, spices and salt
Beat butter in a bowl and remaining sugar until fluffy for about 10 minutes
Add vanilla and oil to it
Mix them well
Add an egg to the butter mixture and beat it well with the mixture
Add ½ of the flour mixture to it and mix it well
Add cooled caramel and fruits to the flour
Gently fold in and pour the batter on greased cake pan
Bake for about 40 minutes under 170 degrees C
When the top looks over done, it indicated that the cake inside is cooked completely
Dust it with icing sugar after the cake is completely cooled
Cut it into equal pieces and serve it to your guest.
Also try Banana Muffins Recipe along with the plum cake as Christmas Special Recipes.
-Neelima
This Recipe Rate :
(0) Reviews