How to Make Crispy Aloo Tikki Recipe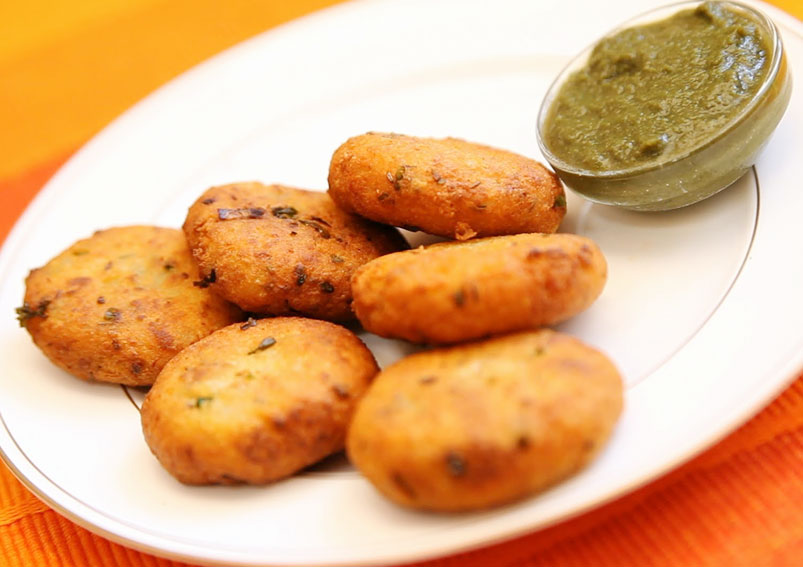 Potato Patties also called as Aloo Tikki is one of the popular street foods that most of the people likes to have during evenings. Know how to make Hot Crisp Aloo Tikkis at home in an easy way.
Ingredients
3 medium sizePotatoes
2 tablespoonsBread crumbs
as per requiredSalt
for cookingOil
1/3 cupGreen peas
1 teaspoonChopped ginger
½ teaspoonFinely chopped green chili
1 tablespoonMinced cilantro
1 teaspoon for fillingOil
Directions
Boil peas and mash it lightly.
Boil potatoes and shred it, which will make 2 cups of shredded potatoes.
Place a pan on flame and add 1 tablespoon of oil to it.
Fry boiled peas and boiled potatoes for about 2 minutes separately.
Transfer them to separate bowls.
Add 1-teaspoon oil and fry ginger, chopped green chili, cilantro in the pan. Add salt to it and off the flame. Mix peas with the fried ingredients. Keep it aside for filling.
Add salt and bread crumbs to potatoes.
Mix the ingredients well and knead to make smooth dough.
Grease your palm with oil and take small portion of the dough.
Make a ball and flatten it with palm.
Put 1 teaspoon full of peas filling in the flattened ball and wrap it neatly.
Flatten the filled balls to patties.
Continue the same process with the remaining portion of the dough.
Place a non stick pan on flame and add 1 teaspoon of oil to it.
Place the prepared patties on the skillet.
Oil the patties from the tops. Fry them for 2 minutes and turn them to the other side.
Fry till the other side turns golden brown color.
Oil the other side and press it lightly with spatula.
Remove the fried tikkies to serving plate and serve them with Carrot Chutney.
The patties taste good when it is hot. So, you can have it or serve it immediately after removing from the pan.
-Neelima
This Recipe Rate :
(0) Reviews