Maggi Veg Omelatte (Best Snacks Recipe) Recipe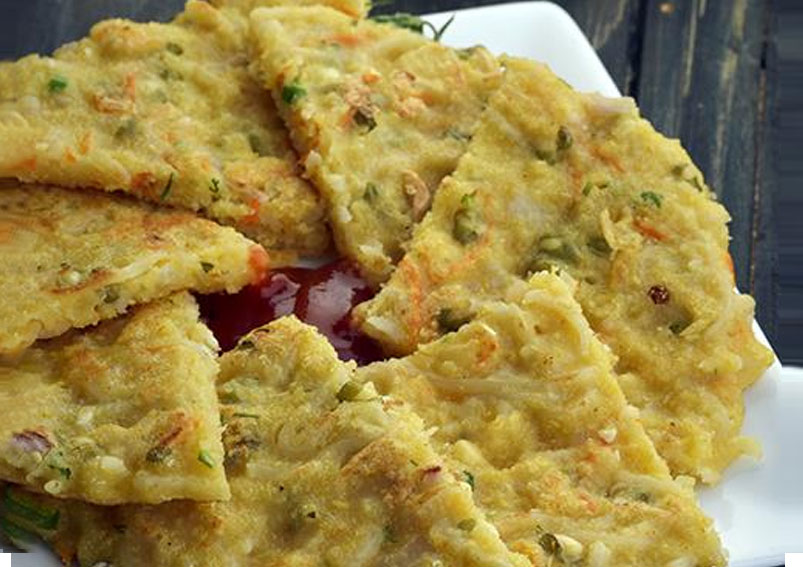 People are so crazy of magi that even they forget of getting food in the diet. Can you can think from maggi also we can prepare something different that will gives you different taste? Yes, here is a Maggi veg omelette, in this we will use besan and other veggies that is we will mix in maggi. Best eve recipe for children. It can easily cook on a tava. You can add different flavors that you like the most. It can be ginger, chili and other various veggies. This is easy to cook recipe.
Ingredients
1 small packet ofmaggi noodles ( 70gms)
1 cupbesan (bengal gram flour)
1 cupsemolina (rava)
1/4 cupfinely chopped onions
1/4 cupgrated carrot
1/4 cupgrated coconut
1/2 cupsprouted moong (whole green gram)
2 tspfinely chopped green chillies
1 tbspfinely chopped coriander (dhania)
1 tspginger-garlic (adrak-lehsun) paste
Add saltaccording to taste
Olive oil forgreasing and cooking
Directions
Boil 2 cups of water in a pan.
Put the maggi in pan and boil it on a medium flame for 5 minutes.
Drain the excess water and keep aside
Mix all the ingredients and the boiled Maggi in a separate bowl and put the maggi masala and mix it well.
Add 1 cup of water and mix well.
Divide the batter into 10 equal portions.
Heat a non-stick tava (griddle) and grease it with olive oil.
Pour the mixture on the tava (griddle) and spread in a circular shape
Cover and cook on a medium flame and keep putting oil, till golden brown spots appear on both the sides
Repeat steps to make 9 more omelettes.
Serve immediately.
Keep in mind that do not boil maggi too much that it is becoming too soft that it looses its shape while mixing in other ingredients. Suppose while preparing this recipe you have a work for 10-15 min in between, then do not add salt till you are ready to prepare.
Know about: benefits of besan (Gram Flour)
-shaveta kandhari
This Recipe Rate :
(0) Reviews