Healthy Oats and Cauliflower Tikki Recipe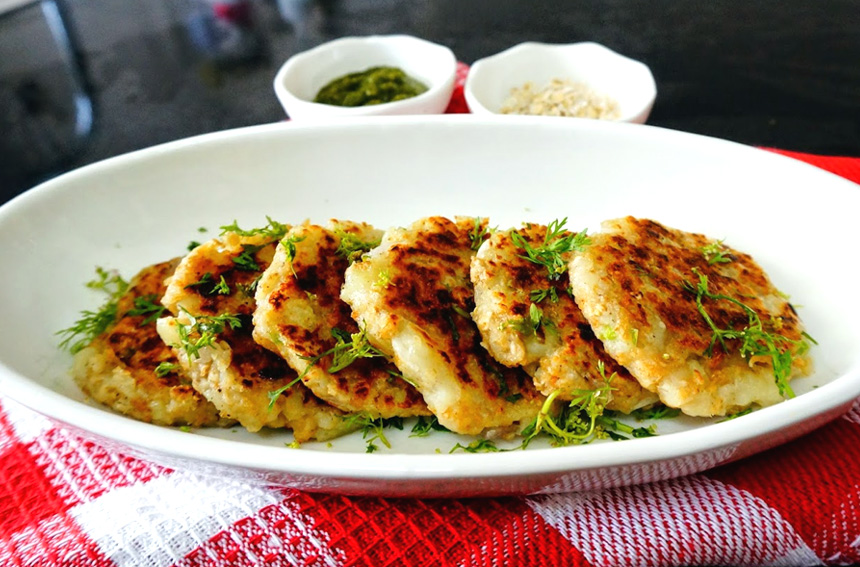 Source: http://www.womanatics.com
Oats and Cauliflower Tikki is a mouth- watering Indian tea time snack. It is crispy and delicious tikki that is also very easy to prepare. This is prefect tea time snack during monsoon. Try this tasty and easy snack at your home and enjoy with your family members.
Ingredients
2 cupsFinely chopped and blanched cauliflower
1/2 cupQuick cooking rolled oats
1/2 cupOats flour
3 1/4 tspOil
1/2 cupFinely chopped onions
1/2 cupFinely chopped and boiled french beans
1/2 cupFinely chopped and boiled carrots
1 tspGreen chili paste
2 tbspFinely chopped coriander (dhania)
2 tbspFinely chopped mint leaves (phudina)
1 1/2 tspGaram masala
1 1/2 tspDried mango powder (amchur)
1/2 tspGinger (adrak) paste
1/2 tspChaat masala
1/2 cupFinely chopped and boiled carrots
Saltto taste
Directions
Heat 1 tsp of oil in a broad non-stick pan, add the onions and fry on a medium flame for 2 minutes.
Transfer the onions into a deep bowl, add the cauliflower, french beans and carrots, mix well and mash lightly by using a potato masher.
Add chopped onion, chopped french beans, carrots, chili paste, dried mango powder, ginger paste, chaat masala, and salt, mix it well and keep aside for 10 minutes and so the oats absorb all the flavors and binds well.
Divide the mixture into equal portions and shape each portion into a 50 mm. (2") flat round tikki.
Heat the non-stick tawa (griddle) and grease by using ¼ tsp of oil and cook each tikki on a low flame by using 1/8 tsp of oil and cook till they turn crisp and golden brown in color from both the sides.
Serve it with green chutney.
Tip:
To get ½ cup of oats flour, blend ½ cup of quick cooking rolled oats in a mixer to a smooth powder.
This Recipe Rate :
(0) Reviews