Baked Samosa with Mixed Sprouts Recipe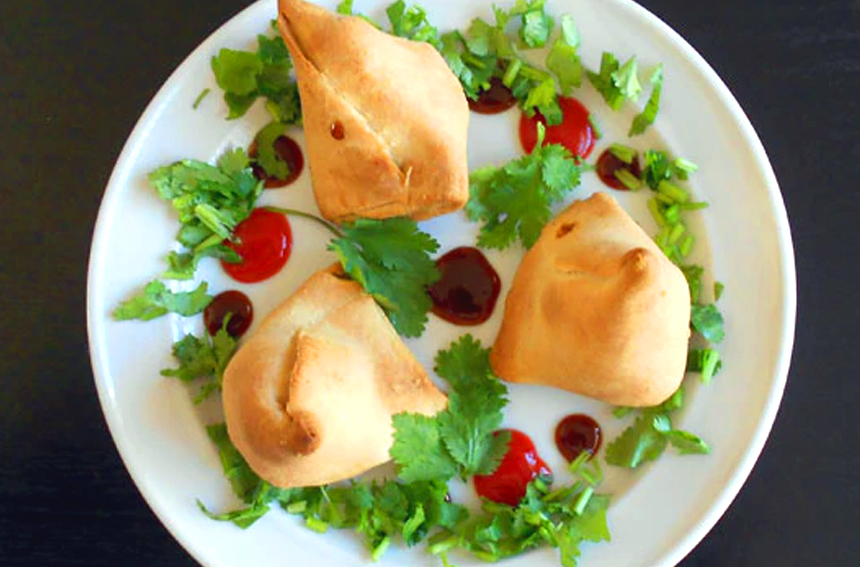 Source: http://www.sbs.com.au
Tired of having potato samosa, want to have healthy and also tasty samosa? Then try this Baked Samosa with Mixed Sprouts which is a healthy innovation of fried samosa. Here the potato filling is replaced by mixed sprouts filling. This samosa it perfect dish for health conscious people. This snack dish is perfect with a cup of tea. Try this dish at your home.
Ingredients
For The Dough
5 tbspWhole wheat flour (gehun ka atta)
1/2 tspOil
Saltto taste
For The Filling
1 cupBoiled mixed sprouts
1/4 cupCoarsely crushed oats
1/4 tspAsafoetida (hing)
1 1/4 tspchili powder
1/4 tspturmeric powder (haldi)
1/2 tspCoriander (dhania) powder
1/2 tspCumin seeds (jeera) powder
1/2 tspDried mango powder (amchur)
1/2 tspChaat masala
2 tbspFinely chopped coriander (dhania)
Saltto taste
Other Ingredients
Directions
For the dough
In a deep bowl, add wheat flour, oil and knead into a stiff dough using enough water. Keep it aside.
For the filling
Put the mixed sprouts in a deep bowl and mash it lightly when hot with the back of a spoon.
Add all the remaining ingredients and mix very well using your hands.
Divide the dough into 8 equal portions and keep it aside.
How to proceed
Roll out a portion of the dough into 150 mm. (6") diameter thin oval shape.
Cut the oval horizontally into 2 equal portions by using a knife and take a portion and join the edges to make a cone and seal it with little water.
Stuff the cone with approx. 1 tbsp of the filling and apply little water on the edges to seal it.
Place them on a greased baking tray and brush all the samosas using the oil.
Bake in a preheated oven at 180°c (360°f) for 15 minutes, turn them over and bake them again for 15 minutes.
Once baked remove it from and serve it any sauce of your choice.
Tip:
These samosas are best served within 10 minutes of cooling as they tend to get dry quickly.
Nutrition Info
Energy: 28 cal
Protein: 1.2 g
Carbohydrates: 4.4 g
Fiber: 0.6 g
Fat: 0.6 g
Cholesterol: 0 mg
Vitamin A: 33.6 mg
Vitamin B1: 0 mg
Vitamin B2: 0 mg
Vitamin B3: 0.2 mg
Vitamin C: 0.6 mg
Folic Acid: 3.3 mg
Calcium: 7.9 mg
Iron: 0.4 mg
Magnesium: 0 mg
Phosphorus: 0 mg
Sodium: 1.4 mg
Potassium: 29.2 mg
Zinc: 0.1 mg
This Recipe Rate :
(0) Reviews