Healthy Sprouts Curry Recipe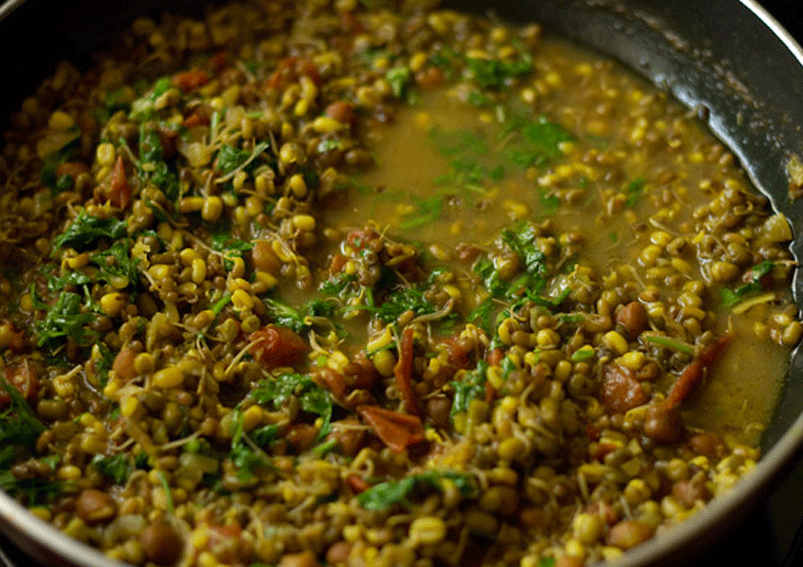 The Sprouts contain a rich amount of protein, fiber, vitamin K, thiamin and vitamin A. It is very healthy to eat sprouts, raw as well as cooked. Sprouts curry contains all types of sprouts. It is a very healthy recipe. Let's try this protein and fiber rich sprouts curry.
Ingredients
MixedSprouts
2 tablespoonsOil
1 teaspoonCumin Seeds
A pinchHing (asafoetida)
1 tablespoonGarlic (grated)
1 teaspoonCoriander powder
1 teaspoonGaram Masala
1 teaspoonRed Chily powder
1/4 cupGrated Coconut (Fresh)
1Onion (finely chopped)
1Tomato (finely chopped)
1 tablespoonJaggery /Gudh
Directions
Put a pan on flame and heat 2 tablespoons oil in a pressure pan.
After heating the oil put cumin seeds and hing.
Now put, finely chopped onions, and cook until onion gets brown in colour.
Add garlic and cool for a minute.
After that, put garam masala, coriander powder, mix it well.
Add grated coconut in the mixture and continue to cook for at least 2 minutes.
Now, put chopped tomatoes, red chilli powder and cook until tomatoes become soften.
Add sprouts, water, salt and jaggery.
Cover and cook for 20-25 minutes (you can also use a pressure cooker).
Garnish with coriander and served hot.
There are many benefits of eating sprouts in any way. You can have the dish as curry as well as in breakfast. It's a rich source of proteins.
Also see: Mixed Sprouts Salad Recipe
-Nandini Chauhan
This Recipe Rate :
(0) Reviews