Malai Kofta Recipe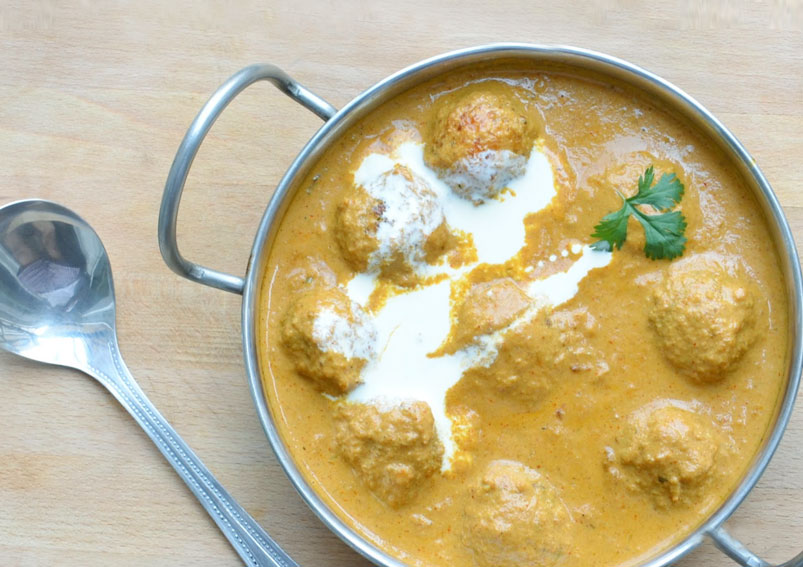 Making malai kofta is no big deal if you know how to handle the stuffing and if you make the kofta perfectly. Here are the ingredients of making malai kofta. Check out the recipe.
Ingredients
for the kofta:
200 gmspaneer/cottage cheese, grated
3 medium sizepotatoes, boiled, peeled and grated
½ tspred chili powder/lal mirch powder
1 tbspcornflour
a pinch or ¼ tspgaram masala
1 tbspalmond flour
1 tbspmilk powder
¾ tbspkhoya/evaporated milk
saltas required
for the gravy/curry:
1 cuponion paste about 2 medium to large onions, pureed
1 cuptomato puree about 2 large tomatoes pureed
½ cupcashew paste 12 to 15 cashews soaked in warm water for 30 minutes and then blended to a smooth paste
¼ tspturmeric powder
¾ tspred chili powder/lal mirch powder
2 inchginger/adrak 4-5 garlic cloves/lahsun - made in to a fine paste in a mortar-pestler
¼ tspgaram masala
2 cupswater
1 tspkasuri methi/dry fenugreek leaves
saltas required
sugaras required (optional)
oil for shallowdeep frying the koftas
wholespices/garam masala
1 bayleaf/tej patta
1 inchcinnamon/dal chini
1 or 2black cardamom/badi elaichi
2-3green cardamom/hari elaichi or choti elaichi
a pinchof mace/jayitri
2-3cloves/laung
for garnish:
1 tbspgrated paneer
1 or 2 tbspcream
a fewchopped coriander leaves/dhania patta
Directions
Start off with mixing all of the ingredients mentioned under kofta ingredient list except oil in a bowl.
Now, when you are done with that, make medium sized balls and fry the koftas in medium hot oil till golden and keep aside.
After you keep that aside, take away the extra oil from the same pan and keep about 1 or 1.5 tbsp oil in the pan and add the whole spices.
Let it fry well till you get the fragrance.
After all of this, take the onion paste and add it and make sure it becomes brown or golden-ish in color.
Make sure to add ginger-garlic paste. Now fry it for a few seconds so that the raw aroma of the paste goes away.
After that, you have to add the puree that you have made with the tomato and sauté for about 5 minutes.
Use turmeric, garam masala and add even the chili powder. If you have cashew paste, add that or make cashew paste by just grounding cashew and a little milk.
Make sure to stir it completely and then saute till the oil starts to leave the sides of the masala paste. add water and stir.
Now, let the gravy begun to thicken and once that is done, simmer it. It would definitely take close to 10-15 minutes on low flame.
When you know you are done, add kasturi methi to it and then finally add salt.
You could also add sugar, a very little if you want it to have a sweet taste. Let the sugar be very less so that you have a tangy yet sweet taste.
Once you are done with all of this, add the koftas in the curry if serving immediately or you can also add the curry first in the serving plate or bowl and then place the koftas.
Make sure that you definitely garnish the malai kofta with some cream, grated paneer and coriander leaves.
You can serve the dish – malai kofta with parantha or roti for better taste than rice.
Also know – the recipe of Brinjal fry
This Recipe Rate :
(0) Reviews