Egg Masala Recipe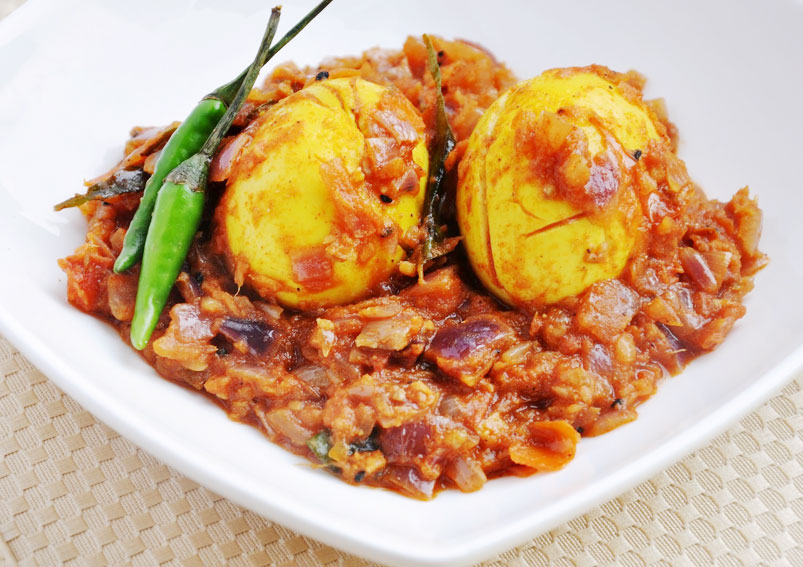 Egg Masala is a very easy recipe since it involves flavourful gravy and pairs well with all kinds of food like chapathi, naan, bread, rice, biriyani etc. The mint leaves in the egg masala give it a fresh and minty taste that will also add to the exotic flavor. The masalas and the spices added are the cherry on the cake when added at right quantities. So, here's the recipe of exquisite egg masala.
Ingredients
4boiled eggs
1 ½ to 2 tbspoil
1 heaped cup ofchopped onions
1 tspginger garlic paste
¾ cupred ripe tomatoes
1green chili (optional)
½ tspred chili powder
¾ to 1 tspgood garam masala or kitchen king masala
2 tbspFresh coconut
12cashew nuts (optional, to get good taste)
Pinch ofturmeric
Saltas needed
few finelychopped Coriander or mint leaves
FewSpices
½ tspcumin
1 sprigcurry leaves
1bay leaf
3cloves
2cardamoms
1 inchcinnamon
½ tspmustard
Directions
To start off with, boil 3-4 eggs and once you are done, remove the shells of the eggs. It is good if you cab pierce into the eggs when you add it in the masala as the flavors can be absorbed quickly that way.
You can use either coconut powder/grated or simply use the cashew paste to add to the mixture for it to give a better taste.
Heat the pan and pour some oil into it. You can now add mustard seeds and jeera (If required). Let it splutter.
Add onions and the other spices like Garam masala, chilli powder, salt. Add the chopped onions into the mixture and sauté well. Once you sauté till brown, the aroma will be evident.
Add ginger garlic paste and fry it well. It is now time to add tomatoes to it.
Mix it well and squish the tomato with the onions. Let it become a good paste.
You can add masala powders even after adding the tomatoes. The best way to add masala powder is when you fry it a little before you add it into the tomato mixture.
Now you can pour the cashew paste and let it cook. Finally add the eggs into it.
The finely chopped mint leaves and coriander can be added towards the end. Let the Masala cook for a while.
When you let it cook, the aroma of mint leaves and masala will be absorbed by the eggs.
Serve hot with chapathis or rice.
This Recipe Rate :
(0) Reviews