Ramzan Special Haleem Recipe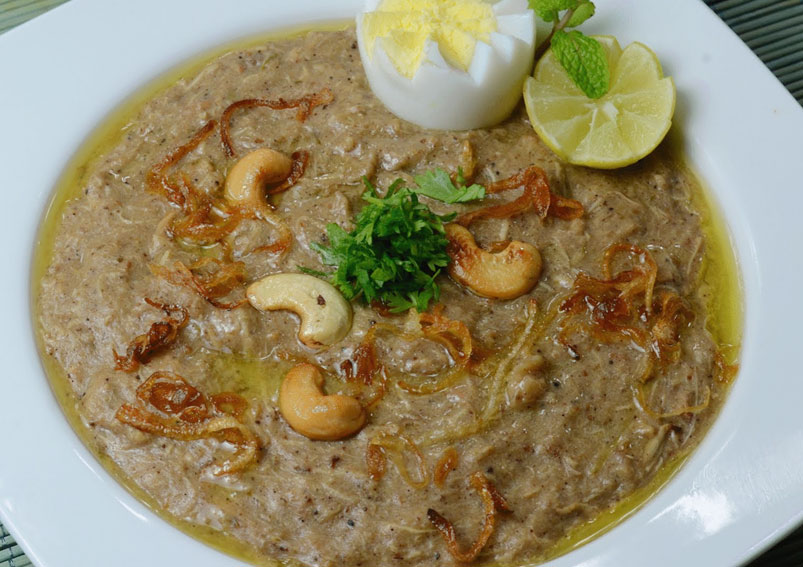 Hyderabadi Haleem is a world famous dish and it is made in the Ramzan month. The taste is heavenly and this is the best food to break the fast for the Muslims. One can see the healthy and tasty Haleem outlets like Pista House or Sarvi in Hyderabad, during Ramzan month.
Have a look at Haleem recipe preparation, where you can try it at home.
Ingredients
1 kgMutton
1/2 kgWheat grain
1/4 kgYogurt
2 tbspGinger garlic paste
1/2 cupGram lentil
1/2 cupUrad dhal
1/2 cupMong dhal
1/2 cupBarely
2 tbspClarified butter
2 cupsOnions (fried brown)
6Green chili
1 cupOil
2 tspRed chili powder
2 tspTurmeric
2 tspAll spice
As per tasteSalt
2Cinnamon stick
1 tspBlack pepper corn
3Cardamom
3Cloves
For Garnish:
as neededLemon
1/2 tspAlmonds (roasted, ground)
1/2 tspCashew nuts (roasted, ground)
1/2 bunchCoriander leaves
1/2 bunchMint Leaves
5 or 6Green chili
as requiredBrown onion
Directions
Soak Chana dal, wheat and urad dal in water for the whole night and water quantity should be more than the ingredients.
Heat oil and add one cup of fine chopped onions and add 1 tbsp ginger garlic paste and fry it for a while.
After washing meat, add meat in that bowl. Add 1 tsp turmeric, red chili and all spice powder, mix well and let it cook till meat gets boiled and tender.
When mutton gets cooked, add yogurt, lemon, 3 green chilies and add 1 cup of water till oil comes on the surface.
Let it cool at room temperature, cover it with cloth and keep it aside.
In a large pan, add wheat, mixed lentils, 1 tsp turmeric powder, 1 tbsp ginger garlic paste, 3 green chilies, black pepper corn give a boil and let it to cook for a while.
Blend all lentils and wheat in blender.
In a pan add butter and all other whole spices such as clove, cinnamon stick, black pepper corn and cardamom.
Add lentils and meat mix.
Add some garnishing ingredients and let cook for 30 minutes to mix all ingredients well.
Finally, Haleem is ready with all garnished nuts.
-Mayuka
This Recipe Rate :
(0) Reviews