Black Bean and Mango Salsa Recipe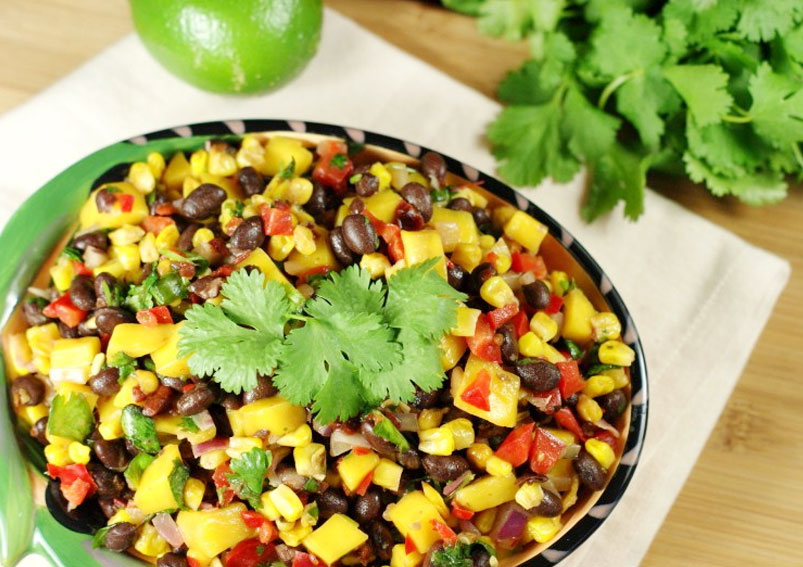 Black Bean and Mango Salsa is a tasty and nutritious recipe, seasoned with platters of jalapeno poppers, avocado and finally top up with black bean salsa with mango, avocado.
In Mexico, black bean salsa is almost similar to soup, quite a different from dips and salsas.
Check for the recipe of a Black Bean and Mango Salsa.
Ingredients
1 (15-ounce)Black beans, rinsed and drained
1Mango, peeled and chopped
1Small green bell pepper, chopped
2Tomatoes, seeded and chopped
4Green onions, chopped
1/4 cupItalian vinaigrette dressing
1 tablespoonFresh lime juice
2 teaspoonsFresh cilantro, chopped
1/2 teaspoonGarlic salt
1/2 teaspoonSeasoned pepper
1/2 teaspoonChili powder
1/2 teaspoonHot sauce
1/2 cupAssorted tortilla chips
1/2 tbsJalapeno, chopped
1/2 tbsVinegar
1Avocado, chopped
Directions
In a bowl, mix beans, mango, tomato, bell peppers, onion, jalapeno, cilantro, garlic, lime juice, and vinegar.
Add salt and pepper according to taste.
Cover and chill for 1 day.
Your Black Bean and Mango Salsa is ready and enjoy with tortilla chips.You can add sauce for extra flavor.
For more appetizer recipes
- Mayuka
This Recipe Rate :
(0) Reviews