Sweet-Egg Uthappam recipe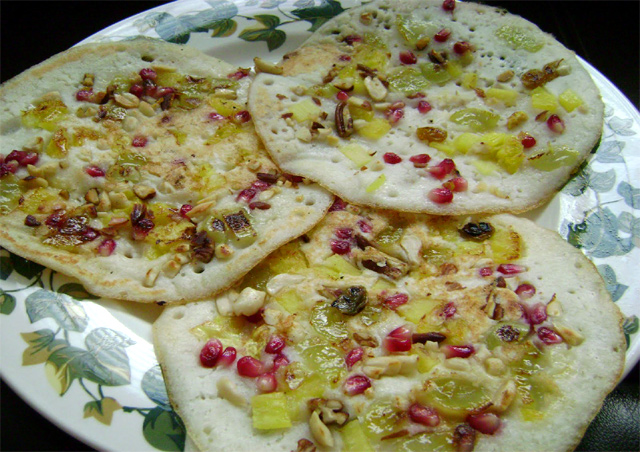 The Sweet-Egg Uthappam recipe is oftenly used in the special occasions. Lets have a look how this sweet-egg uthappam can be prepared.
Ingredients
10-15 Cashews
3 1/2spoonsTutti frutti chips
4 1/2spoonsSugar
5 1/2spoonsAll purpose floour (maida )
6 spoonsGhee (clarified butter, nayee)
2Eggs
Directions
Step

1

Take the cashews and fry in a spoon of ghee till slightly brown. Take 2 eggs beat in a bowl and keep aside.

Step

2

Take all pupose flour, in a bowl and add tutti frutti chips, cashews, sugar, beated eggs, ghee and mix them all very well.

Step

3

Take a pan and add ghee on the pan and heat. Pour the mixture on the pan and spread it with spoon. Sprinkle the remaining cashews and frutti chips on uthappam, cover with lid.

Step

4

Cook the uthappam on a low flame heat. Do not flip the uthappam to the other side, till its cooked.
This Recipe Rate :
(0) Reviews