Healthy Crumble Apple recipe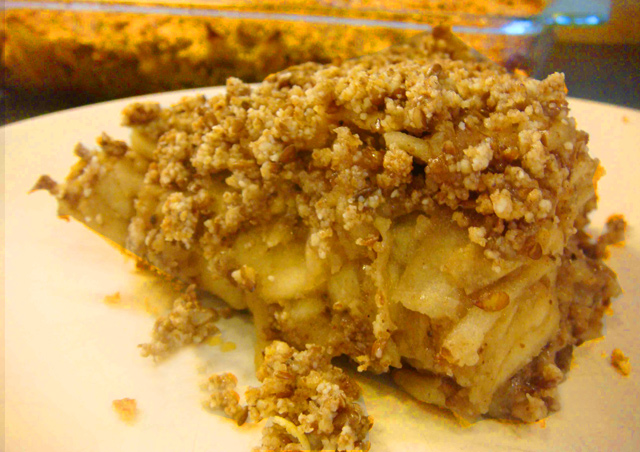 Healthy Crumble Apple recipe, is a good healthy recipe as it consists of ingredients like oats, wheat bran, almonds and walnuts/Akruts. It can be prepared in a special occasions with family members and friends. Children will enjoy this recipe.
What are the ingredients and directions to be followed for making this Healthy Crumble Apple recipe? Let's have a look on it.
Ingredients
1 tbspLemon Juice
3 CupsSliced apples
3 tbspWell cooking rolled Oats
3 Dalchini sticks
1 1/2 tbspsugar
2 tbspWheat Bran
2 tbspKismis
2 tbspchopped Akhrots
2 tbspChopped Almonds
1/4 tbspVanilla essence
1/2 tbspDalchini powder
1 1/2 tbspOil
Directions
Step

1

For Stewed Apples: Take a Saucepan, add sugar, cinnamon sticks, lemon juice, 1 cup of water and sliced apples. Now, cook the apples until appeared as soft.

Step

2

For Muesli: On a nonstick pan, add wheat bran, almonds, Oats and Akruts. For 6 mins. fry them on a low heat.

Step

3

Now add the Dalchini powder and Kismis into the mixture, mix it well. Before that cool it the mixture.

Step

4

Get a tray and rub it with the oil, then sum the well cooked apples into the tray and trim the muesli on top of the recipe.

Step

4

Finally, add the mixture to the oven and heat it at 180 degrees centigrade and serve it.
This Recipe Rate :
(0) Reviews