Yummy Mutton Seekh Kebab Recipe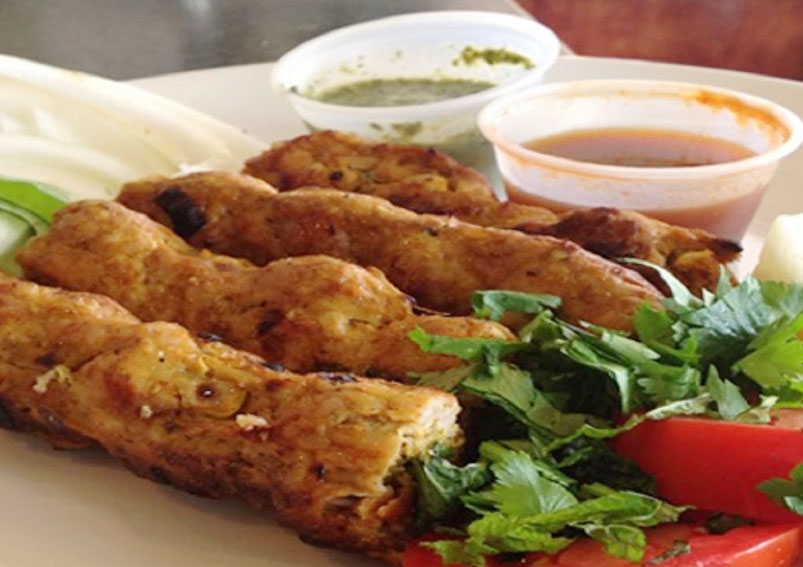 Mutton Seekh Kebab Recipe is an Indian kebab recipe. It is one of the easy and yummy non-vegetarian starters. Kids simply love the yummy taste of this kebab. Try out this royal and delicious recipe.
Ingredients
2 cups

minced mutton

(keema)
1onion thinly chopped
2green chilies thinly chopped
2 tbspginger-garlic paste
1 tsplemon juice
1 tbspcornflour
1/2 tspred chili powder
A pinch ofwhite pepper powder
A pinch ofblack pepper powder
1/2 tspturmeric powder
A pinch ofred-orange food color
2 tspcoriander powder
1 tbspgaram masala powder
1 tbspcashew nuts and melon seeds paste
1/2 tspnutmeg Powder
A pinch ofajwain seeds
To tasteSalt
To sprinkleChaat masala
For greasingOil
Directions
Wash the minced meat well in warm water, place in the colander and squeeze out the whole water from the meat and in a bowl minced meat, onion, green chili, ginger garlic paste, lemon juice, cornflour, red chili powder, white pepper, red orange, coriander powder, turmeric cashew nuts and melon seeds paste, and salt.
Mix it nicely and knead just like a dough and cover the mixture with a lid and keep it aside for 2-3 hours.
Preheat the oven to 350 F degrees on high power.
Soak the wooden skewers in the water for about 5 minutes and then grease them with a little bit of oil.
Take a big portion or ball of the keema mixture and press around the skewer and flatten the mixture to stick tightly around the skewer.
Place the skewers in a hot oven and keep the oven on grill mode and keep rotating them occasionally and brush either with butter or oil.
When the kebab is cooked then remove them from the skewers.
Now heat a flat griddle and drizzle some oil and place these kebabs over the tawa for few minutes.
Sprinkle some chaat masala and serve it with pudina chutney and salad.
Notes:
These delicious seekh kebabs can be made in the pan as well and for making this Kebab in the pan, you need to give them a shape of seekh kabab with your hands and adjust the spices as per your taste.

By Meghna Nath
This Recipe Rate :
(0) Reviews