Tasty Prawn Balls Recipe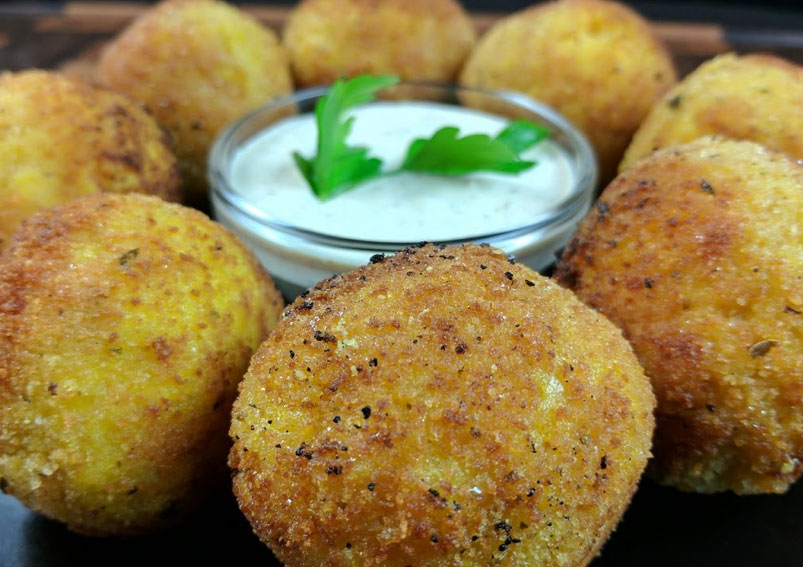 Prawns are all time favorite seafood. This prawns balls are crispy and are perfect for an evening snack with a cup of tea or coffee. The prawns are dip in the thick batter and then deep fried. Let's follow this tasty recipe.
Ingredients
8-10Medium Sized

prawns

(their tails removed but heads intact)
4 tablespoonsBesan or Gram Flour
As requiredParsley leaves (separated from stalks and chopped)
1Onion (finely chopped)
1 teaspoonRed Chili powder
1 teaspoonTurmeric powder
1 teaspoonCumin (Jeera) powder
4 (chopped finely)Green chilies
2 tablespoonsCorn flour
1 teaspoonVinegar
4 tablespoonsOil
To tasteSalt
Directions
Make three pieces out of each prawn including the head and the head part of the prawns makes the prawn balls crunchy.
In add prawns and sprinkle salt, vinegar, and turmeric powder on the prawn pieces and keep it aside for few minutes.
For the batter
In a bowl add besan and corn flour, salt, red chili powder, green chilies, cumin powder, chopped onion and chopped parsley to the mixture and mix it with half a cup of water. Mix it to get a thick batter consistency and dip prawns pieces and mix it well and make small balls out of this batter.
Heat oil in a deep pan because the prawn balls have to be deep fried for being crisp.
Deep fry the prawn balls and drain them on a tissue paper.
Serve them with chutney or any sauce of your choice.
By Meghna Nath
This Recipe Rate :
(0) Reviews