Tasty Soya Granule Samosa Recipe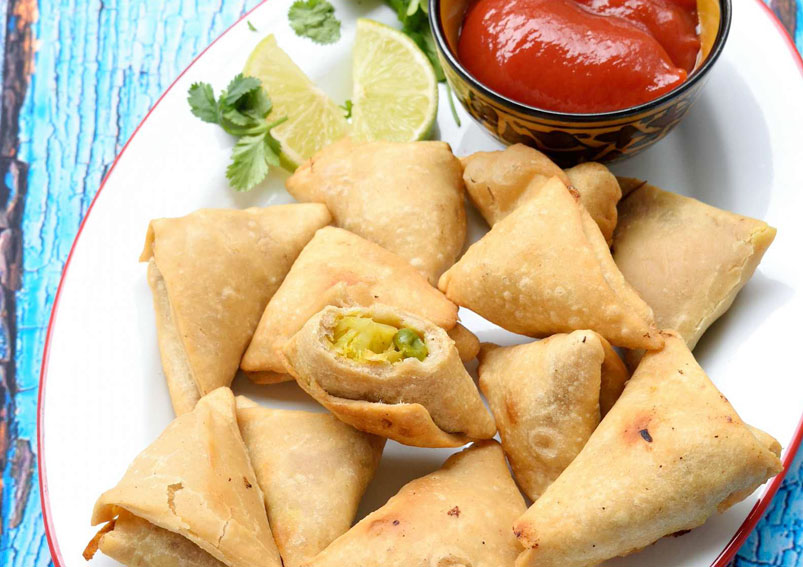 Indian's most popular snack or appetizer, samosa is prepared with an innovative filling in this Soya Granule Samosa recipe. It is easy to prepare at home and is very delicious. Try this recipe for your family members and enjoy with your evening tea.
Ingredients
For the crust
1 cupAll Purpose Flour (Maida)
1 cupWhole Wheat flour
1 teaspoonSalt
2 tablespoonGhee
1-1/2 teaspoonCarom seeds (Ajwain)
Wateras required
For the filling
1/2 cupSoya granules
1Onion, finely chopped
2Green Chilies, finely chopped
1/4 cupGreen peas
1 teaspoonCumin seeds
1 tablespoonCooking oil
1-1/2 teaspoonGinger garlic paste
1 teaspoonCoriander Powder
1 teaspoonRed chili powder
1/4 teaspoonTurmeric powder (Haldi)
1/2 teaspoonGaram masala powder
Saltto taste
deep fryingCooking oil
Directions
In a bowl add maida, wheat flour, salt, ghee and ajwain and mix all the ingredients until it resembles like bread crumbs.
Add water little at a time and knead the flour into a stiff dough and cover it with a damp cloth and let it rest for about 30 minutes.
For the filling
In a pan pour 2 cups of water to boil and add 1 teaspoon salt and soya granules into hot water and let the granules submerge fully and switch off the flame and keep in hot water for 12 to 15 minutes.
Drain the water from the soya granule and keep the soya granules aside and if you are using fresh green peas, blanch them in hot water and drain it and keep it aside.
Heat a tablespoon of oil in a pan and add cumin seeds and add finely chopped onions and green chilies and cook till onions turn soft.
Add ginger garlic paste and cook till the raw smell of the paste goes off.
Add cumin powder, turmeric powder, red chili powder, coriander powder, and salt, mix it well and fry for 15 seconds.
Add soya granules and green peas, mix it well and cook for 10 minutes in its own juices on low flame
Switch off the flame and let the filling cool down completely.
How to proceed
Now, knead the dough once again and divide into equal portions and take a portion, and roll out a portion of dough into 6 to 7-inch diameter circle.
Use a sharp knife, cut the dough circle into 2 and take a portion, join the edges to make a cone.
Add the filling(about 1 to 2 tablespoon) in the center and apply water on the edges to seal the cone and seal the edges tightly.
Heat oil in a deep fry pan for frying and once oil turns hot, reduce the flame to medium and drop few samosas at a time and fry until golden brown on all the sides and drain on absorbent paper.
Serve Soya Granule Samosa with green chutney.
Meghna Nath
This Recipe Rate :
(0) Reviews