Tasty Spring Onion Pakora Recipe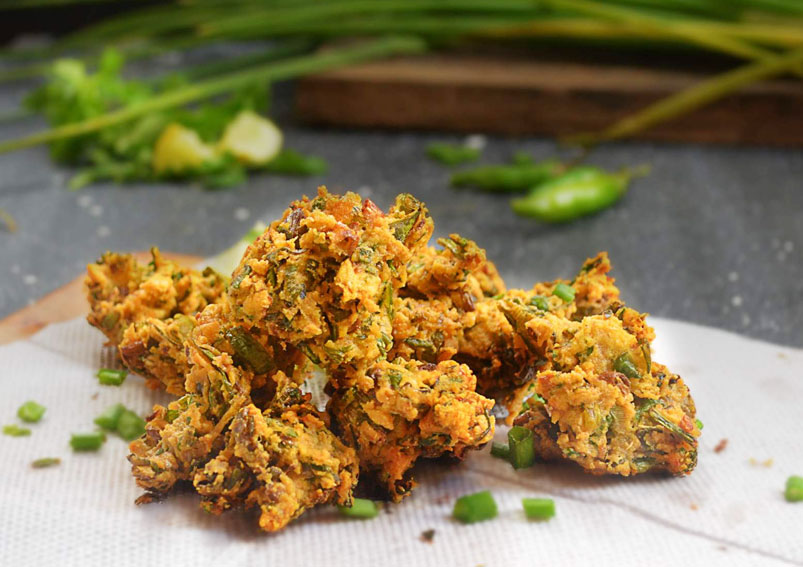 Spring Onion Pakora is a deep fried snack recipe which is crunchy and tastes absolutely yummy. It is an easy snack recipe to make when there is an unexpected guest at home. It can be prepared in few minutes. Let's follow this recipe.
Ingredients
2 cupssoaked and boiled rajma (kidney beans)
2 cupsroughly chopped tomatoes
3 tbspoil
1/2 cupgrated onions
1 tbspgarlic-ginger-green chili paste( blend garlic, ginger, and green chili and make a smooth paste)
1 tspchili powder
saltto taste
Directions
Rinse well the spring onion and cut the root out and chop the onions.
Finely chop green chili, coriander leaves and mince the ginger.
In a wide bowl add chopped spring onion, chili, ginger, coriander leaves, lemon juice, salt, red chili powder, turmeric powder, cumin powder, besan mix it well and keep it aside for 5 minutes.
Heat oil for frying and drop a spoonful of batter into the oil and fry in medium flame until golden brown from all the sides./li>
Drain it on the kitchen tissue and serve hot with chutney of your choice.
Meghna Nath
This Recipe Rate :
(0) Reviews