Healthy Brown Rice Khichdi Recipe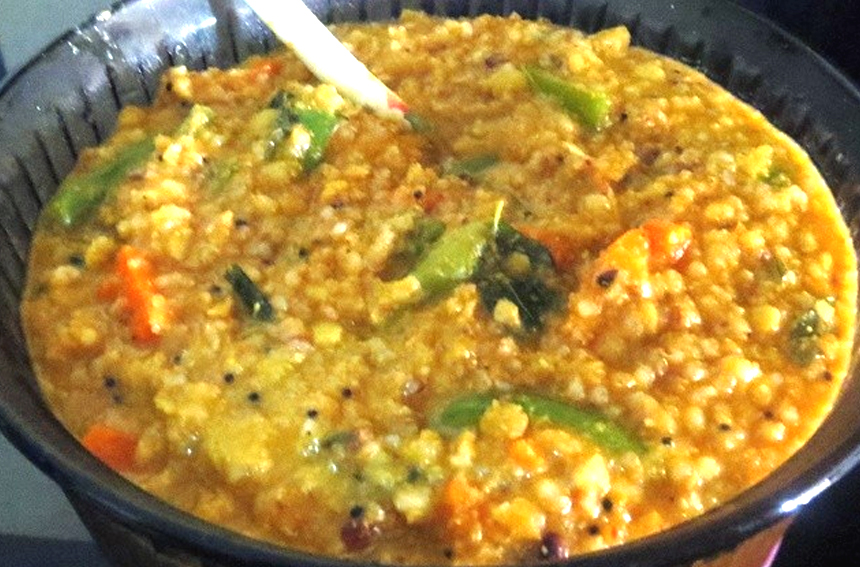 Source: http://recipeshindimein.com
Brown Rice Khichdi is a wholesome rice dish which you can easily prepare at your home within few minutes and this dish is popular Indian household dish. This brown rice Khichdi is a healthy version of plain rice Khichdi.This dish is perfect when you want to have healthy and also a wholesome meal. This dish is prefect for weekend dinner. Let's follow this recipe.
Ingredients
1/2 cupBrown rice, soaked for 30 minutes and drained
1/2 cupMasoor dal (split red lentil), washed and drained
2Cloves (laung / lavang)
1Cardamom (elaichi)
1/2Small stick cinnamon (dalchini)
2 tspghee
1bay leaf (tejpatta)
1/2 cupFinely chopped onions
1 tspGinger-garlic (adrak-lehsun) paste
1/4 tspTurmeric powder (haldi)
3/4 cupChopped carrot
3/4 cupChopped french beans
3/4 cupGreen peas
2 tspFinely chopped green chilies
Saltto taste
Directions
In a mortar pestle, add the cloves, cardamom and cinnamon and ground into a coarse powder.
Heat the ghee in a pressure cooker, add the bay leaf and the prepared coarse powder and fry on a medium flame for a few seconds.
Add the onions and fry on a medium flame for 2 minutes.
Add the ginger-garlic paste, turmeric powder, brown rice, masoor dal, carrots, french beans and peas, mix well and fry on a medium flame for 2 minutes.
Add 2 cups of water, green chilies and salt, mix it well and cook for 35 min and once done, switch off the flame and allow the steam to escape before opening the lid.
Serve it hot with any raita of of your choice and enjoy a hearty meal.
Nutrition Info
Energy: 210 cal
Protein: 8.9 g
Carbohydrates: 35.9 g
Fiber: 5.9 g
Fat: 3.3 g
Cholesterol: 0 mg
Vitamin A: 318.8 mg
Vitamin B1: 0.2 mg
Vitamin B2: 0.1 mg
Vitamin B3: 1.7 mg
Vitamin C: 9 mg
Folic Acid: 24.7 mg
Calcium: 51.1 mg
Iron: 2.6 mg
Magnesium: 0 mg
Phosphorus: 0 mg
Sodium: 8.1 mg
Potassium: 134.5 mg
Zinc: 1.2 mg
This Recipe Rate :
(0) Reviews