Creamy Mushroom Butter Masala Recipe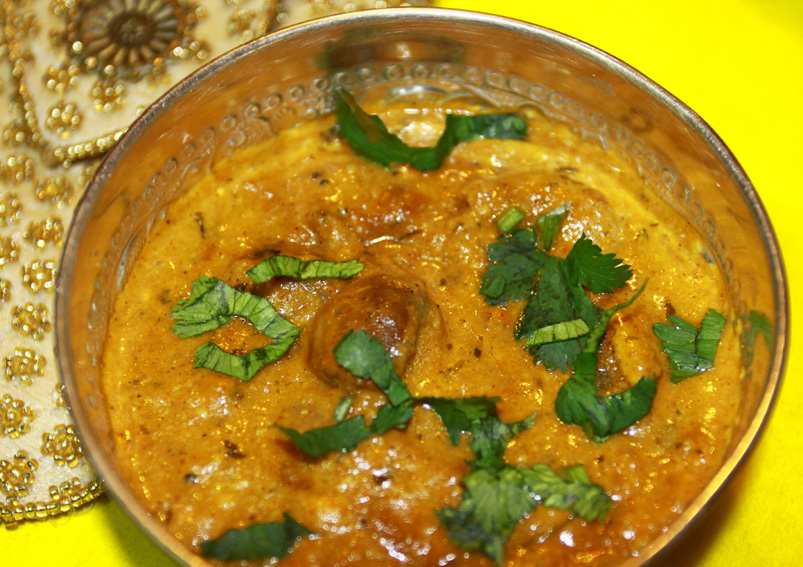 Mushroom Butter Masala is one of the popular North Indian Recipes and it tastes good with rotis. Just taste it once it will definitely become your all time favorite dish. Follow the step-by-step preparation of Spicy Mushroom Curry.
Ingredients
3 Tomatoes
15 Cashews
250gmsMushrooms
1 cup slicedOnions
1 tablespoonGinger garlic paste
3 tablespoonsButter
½ tablespoonTurmeric powder
½ tablespoonRed chili powder
½ tablespoonCoriander powder
1 cupWater
¼ tablespoonGaram masala powder
Salt to taste
2 tablespoonsCoriander leaves
½ inch ginger
/14 teaspoonSugar
2 tablespoonsLow fat cream
½ teaspoonFenugreek leaves
½ teaspoonCumin seeds
1 Indian bay leaf
½ inchCinnamon
2Cloves
2Green cardamoms
2Single strands of mace also called as javitri
Directions
Take a pan and boil and boil enough water init
Take the hot water in a bowl and add 3 tomatoes, 15 cashews to it
Cover and keep aside for about 20 minutes
Drain the water and grind the tomatoes. Add cashews to the tomatoes paste and grind them again
Take another pan and add 3 tablespoons of butter
Melt the butter
Add all the spices like cumin seeds, bay leaf, cinnamon, green cardamoms, cloves, single strands and single strands of mace
Saute till the spices are fragrant
Add ginger garlic paste to it and saute it till the raw aroma of the garlic paste goes away
Add 1 cup of finely chopped onions and stir them well. Saute till they become translucent
Add sliced mushrooms and let them saute on a high flame as it leaves lot of water initially
Ssaute the mushrooms till the whole water evaporates and mushrooms look shiny
Then add ½ teaspoon of turmeric powder, coriander powder and red chili powder to it
Stir and mix the whole spices well
Add ground tomato paste and mix it well with the mushroom mixture
Saute the mixture on a low flame for about 8 to 10 minutes till the gravy thickens
Then add 1 cup of water and stir well
Cook the gravy for about 10 more minutes on a low flame
Season with salt and then add ½ teaspoon of sugar, masala powder and ½ teaspoon of kasuri methi
Stir them well and off the flame
Add ginger cut into thin strips and coriander leaves to the curry
The Mushroom Butter Masala tastes good with naan, tandoori rotis or even with chapattis. This restaurant style recipe tastes just like Paneer Butter Masala (Internarl Link) where you just have to replace mushrooms with paneer. Any of the ingredients is healthy. Find the Health Benefits of Mushrooms.
This Recipe Rate :
(0) Reviews