Tasty Aloo Kofta Curry Recipe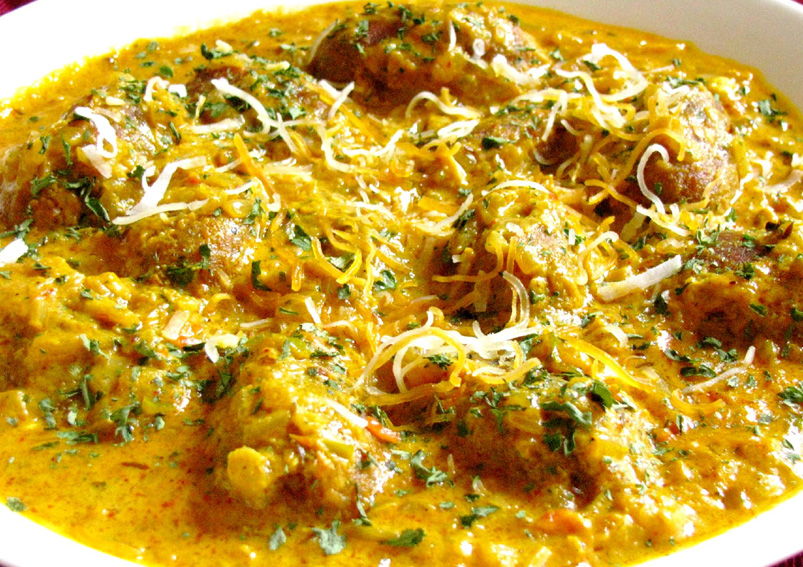 Stuffed Aloo Kofta Curry is a very popular and simple recipe that you can try it on any occasion. Even though it takes time for cooking, at the end you are going to receive appreciation for its excellent taste. Koftas are nothing but deep fried balls that can be prepared with also or even with any other meat. Let us see how it is prepared with aloo here.
Ingredients
2 large ones Onions
2 large Tomatoes
15 piecesAlmonds
2Indian bay leaf
1 tablespoonGinger garlic paste
½ teaspoonsCumin seeds
½ tablespoonChili powder
½ teaspoonCoriander powder
1.25 cupsWater
½ teaspoonGaram masala powder
½ teaspoonKasuri methi
3 tablespoonsLow fat cream
½ teaspoonSugar
Salt to taste
Directions
Boil 2 large potatoes until they become soft
Take water in another bowl and add two large tomatoes, 1 oinion, 15 almonds and heat them on low flame for about 20 minutes
Chop the onions, tomatoes and grind them using a blender
Add the boiled almonds to the tomato paste and grind them to a smooth paste
Keep it aside
Peel the boiled potatoes and mash well using a potato masher
Grate 20gms cheese or you can also replace cheese with paneer
Add grated cheese, 1.5 tablespoon of corn starch, salt and black pepper to mashed potatoes
Mix them well and shape them into medium sized patties
Add oil to a tawa or griddle and heat it on high flame
Reduce the flame and first add small portion of the mixture to it
If the tiny portion of the kofta does not break, then you can deep fry the koftas in hot oil
If the koftas are breaking, then add more corn starch to bind the kofta mixture
Fry the koftas till golden brown
Place the aloo koftas on kitchen paper towel and fry the remaining which are not done
Add two spoons of oil to a pan
Add cumin seeds, small bay leaf to it
Add tomato paste and stir it very well
Add 1 spoon of ginger garlic paste and stir it well
Add spiece powders like turmeric powder, chili powder, coriander powder to it and stir them well
Saute the mixture till it thickens
Add water and stir well for about 4 minutes
Add salt, s tablespoons of cream, garam masala powder and kasuri methi to it
Stir them well and switch off the flame
Pour the gravy in serving bowl and add aloo koftas at the end
Garnish with chopped coriander leaves and serve it with rotis, nann or jeera rice.
If it is more number of guests that you called for dinner, try this recipe as it really tastes yummy and excellent. There is no harm in taking aloo in more quantity. So try to have this recipe atleast once a week by reducing the quantity of almonds and cheese.
This Recipe Rate :
(0) Reviews