Tasty Spicy Chicken Curry Recipe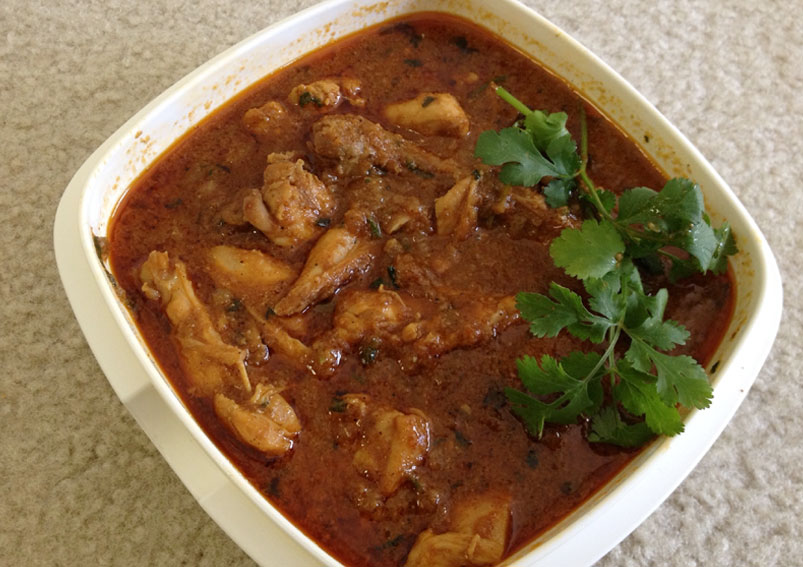 There are different Spicy Chicken Gravy Recipes as there are a number of people. It is a typical South Asian dish and is also referred as Spicy Curry Chicken. Let's have a look at one of the varieties.
Ingredients
2lbschicken
Water
2 spoonsOil
Cinnamon stick
Black cardamom
Bay leaf
Peppercorns
3Onions
1Crushed tomatoes
1 spoon garlic paste
1 spoon ginger paste
Salt to taste
Red chili powder
Turmeric powder
Masala Powder
Cumin powder
Green chilis
Cilantro
Directions
Wash the chicken well and drain all the water
Heat the pan a medium flame
Add oil to the pan and heat for a few seconds
Add cloves, peppercorns, bay leaves and green cardamom and fry them for 30 seconds
Add onions to the pan and stir it.
Add salt to expedite the cooking process and mix well
Fry the onions for 3 – 5 minutes
Add ginger, garlic paste and green chilis
Cook and stir them frequently
Add chopped tomatoes and cook them till oil starts separating from them.
Add chicken to the mixture and fry it for a few minutes
Add salt, red chili powder and cumin powder to the mixture
Fry the chicken for a few minutes and stir it for every 2 minutes
Pour required water and boil for some time
Off the flame after the chicken is boiled perfectly
Garnish with cilantro and take the Spicy Chicken Gravy in the serving bowl.
Chicken with or without bones can be preferred for the Spicy Chicken Gravy Recipe. The healthiest part of the chicken is the breast part even though thighs part is more tastier. It is the easiest recipe where the cook has to just put the ingredients in the pan and stir for some time.
Nutritional Facts:
½ Kg chicken has
Energy 160 – Kcal
Carbohydrates – 6.11g
Sugar – 2.67g
\fat – 8.6g
Saturated Fat – 1.752g
Monounsaturated Fat – 3.665g
Polyunsaturated Fat – 2.433g
Cholesterol – 45mg
Fiber – 1.2g
Sodium – 624mg
Potassium – 321mg
This Recipe Rate :
(0) Reviews