KFC Style Chicken Popcorn Recipe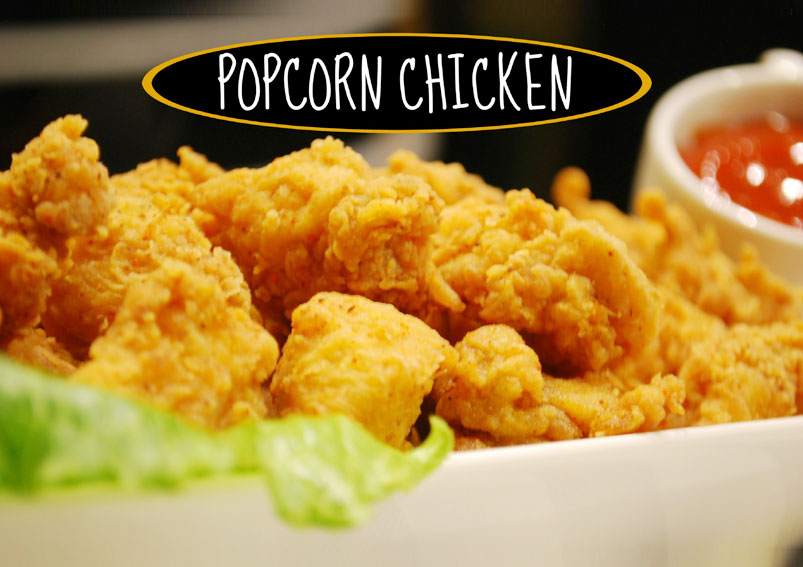 Of course everyone loves to taste chicken items, that too especially KFC chicken isn't it? Making KFC style chicken popcorn is easy and simple. Here's your recipe for KFC style chicken popcorn.
Ingredients
1/4 pound about 250 to 300 grams ofboneless chicken fillet
3tbspscorn flour
2 largeegg
1 cup bread crumbs orcrumbled corn flakes or coarsely powdered oats
Saltto taste
¼ tspTurmeric
Oil fordeep frying
Ingredients tomake cajun spice mix or masala
½ tspGarlic powder (can use ginger garlic paste for Indian version)
¼ tspblack pepper
½ tsponion powder
Fat Pinch of oreganothyme or garam masala for Indian version
½ tspred chili powder or paprika or cayenne pepper
Directions
Make sure that you drain away the water completely from washed chicken.
Chop the chicken into tiny pieces. Spice it up with various spices like red chili powder, ginger garlic paste, paprika, pepper powder, turmeric and salt. You can also add rosemary powder which will add taste to it. Let it be coated well.
Now, you need to add egg in a bowl and beat the egg. Once you beat it add flour and set it aside for it to become a little thick.
Add breadcrumbs into the mix of chicken and mix it well. Let it be there untouched for about 5-10 minutes so that it can soak a little bit. Let the breadcrumbs are well mixed.
Now add the egg yolk and flour that was kept aside. You can make it into halves so that the yolk doesn't become a lot.
Heat the oil and fry the mix completely. Make sure you take it out all crispy and tasty.
Use a kitchen tissue to drain the popcorn.
Your KFC style chicken popcorn is absolutely ready!
This Recipe Rate :
(0) Reviews