Delicious and Alluring Chicken Haleem Recipe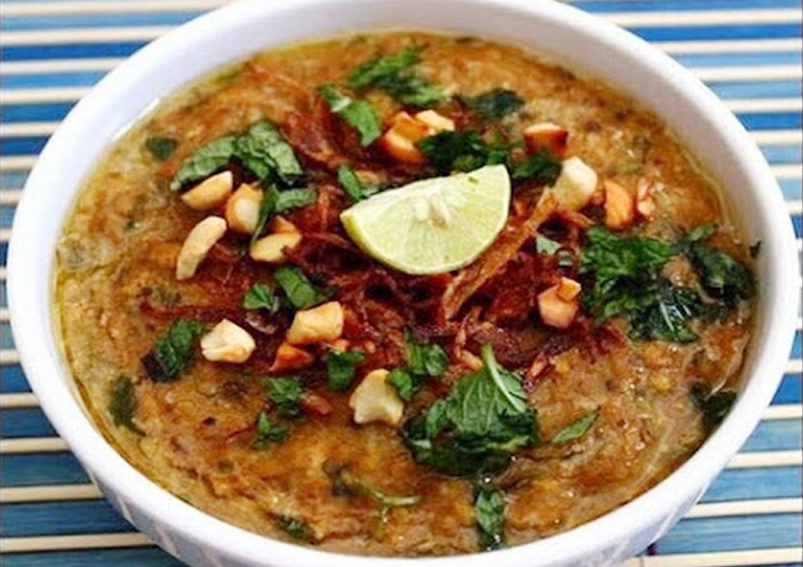 Source: www.quora.com
Chicken haleem, a delicious dish is served all over the world during the Ramadan period. This yummy chicken can be served to your near and dear one's to make them feel extra special. There are assorted variety of haleem served all over the world including chicken haleem, mutton haleem, fish haleem, beef haleem and vegetable haleem.
Here, you can find the home recipe chicken haleem that can be easily cooked and served.
Ingredients
750gmChicken
2gmKabab Chini
2gmShahi Jeera
2 inchcinnnamon sticks
8 noCardamom
3 gmPepper corns
2 gmCloves
4 gmCumin seeds
3 gmSesame seeds
1 tbspMoong dal
1 tbspUrad dal
1 tbspChana dal
6 noAlmonds
1/4 cupOats
1/2 cupDalia (Broken wheat)
1/2 cupGhee
5 noGreen chilli
1/4 cupRose petals
1/2 cupChopped onion
1 tbsGinger garlic paste
1 cupMilk
as requiredSalt
1/2 cupFried onions
2 tbspCurd (Optional)
1/2 tbspChopped coriander
1/2 tbspMint leaves
Directions
Take a bowl and add kabab Chini, shahi Jeera, green cardamom, cinnamom sticks, pepper corns, cumin seeds, moong dal, urad dal, masoor dal, chana dal, alomonds, oats , broken wheat or Dalia as per mentioned quantity.
Mix it all together by putting it into a blender and making it powder.
Now, take a pressure cooker and add ghee, ginger garlic paste and mix it.
Now add boneless chicken pieces, chicken stock and mix it well.
Add to it fried onions, rose petals, curd, green chilly, chopped coriander, chopped mint, salt and prepared powder mentioned in the first step.
Mix the ingredients well, put the lid on, let it cook till two whistles in a high flame and reduce the flame and cook it for 40 minutes in a low flame.
Now, take a potato masher and make a paste.
Add ghee, mix it and switch off the flame.
Add lime juice to the cooked chicken haleem in the cooker and mix it well.
Now serve this hot cooked chicken haleem to your near & dear one's.
Also Read: Ramzan Special Haleem Recipe
BY Sowmya
This Recipe Rate :
(0) Reviews