Punjabi Bhindi Masala Fry Recipe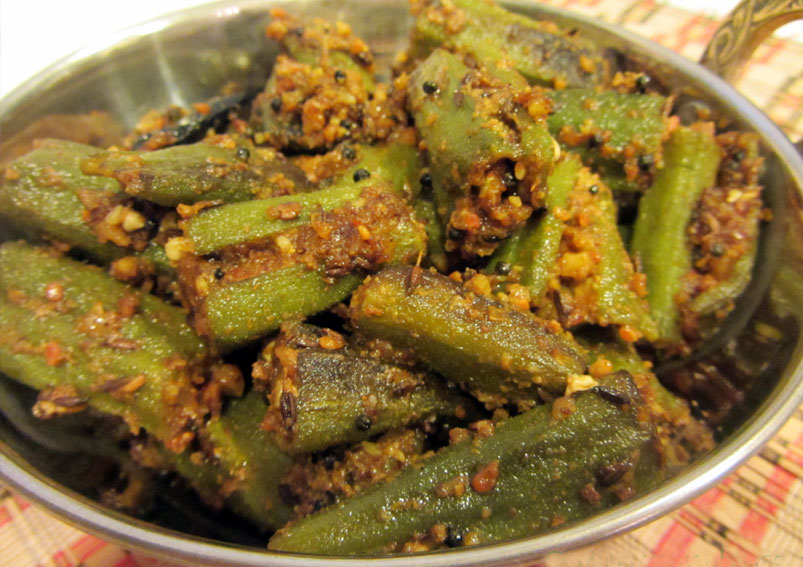 Prepare this Ladies finger Fry as a side dish and take with chapattis or rice. It is a dry recipe prepared with a base of onions, tomatoes and all other regular spices. Make sure to dry the bhindi before chopping. Have a look at the recipe.
Ingredients
250gmsLadies finger
3 tablespoonsoil
1Sliced onions
1 choppedTomato
2Green chilies
1 tablespoonGinger garlic paste
½ tablespoonChili powder
pinchTurmeric powder
½ tablespoonCoriander powder
½ tablespoonAmchoor
½ tablespoon Kasuri methi
2 tablespoons chopped Coriander leaves
Salt to taste
Directions
Wash ladies finger in water and then wipe them with dry kitchen towel
You can also allow them to dry naturally by placing them in plate under fan
Slice the crown and base tip of each finger and slice them vertically. Slice horizontally keeping a width of about 0.5cms in thickness
Slice 1 onion to thin pieces
Chop 1 tomato and slit green chilies
Place a thick bottomed frying pan on flame and add 3 tablespoons of oil to it
Add sliced onions and saute them till they turn to light brown
Add 1 tablespoon of ginger garlic paste and then green chilies
Saute them for 2 minutes
Add chopped tomatoes and stir well for about 2 minutes
Add turmeric powder, red chili powder, coriander powder, cumin powder and mango powder
Mix all the spices well in the pan and saute till the oil releases from the sides
Add chopped okra or ladies finger and salt
Stir them well and cover the pan with lid
Cook the ingredients on a low flame till the bhindi is done
Stir for every 2 minutes so that the bhindi does not get too brown
If the okra is getting too brown, then sprinkle with water and continue cooking
Once the cooking is done, add ¼ teaspoon of garam masala powder and ½ teaspoon of kasuri methi
Stir them well
Add fenugreek leaves and coriander leaves at the end
Off the flame and remove the curry to a serving bowl
Serve the dish with chapattis or with rice as a side dish. Ladies finger has been as a part of Indian cuisine from many years and it is rich in fiber content. It contributes to many health benefits. Know the Health Benefits of Lady Finger.
This Recipe Rate :
(0) Reviews