Gujarati Special Palak Dhokla Recipe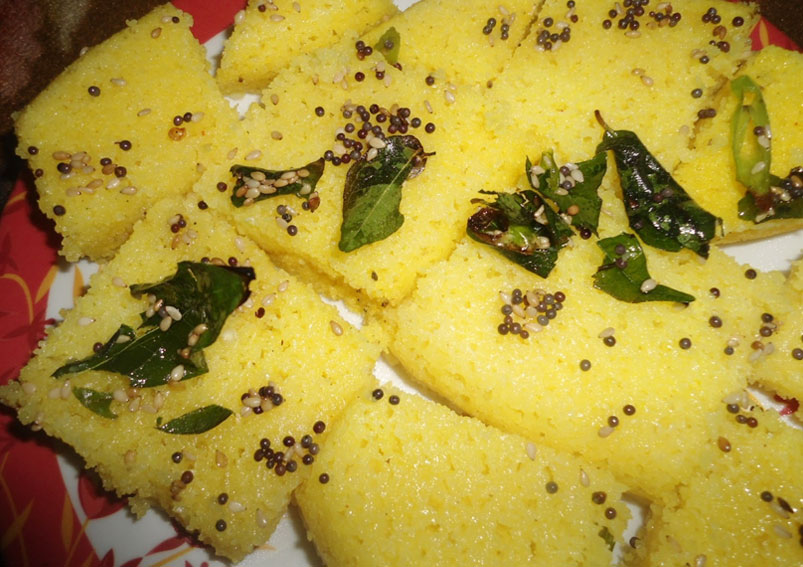 Try Palak Dhokla Recipe and take it at least once a week as it incorporates flour along with leafy vegetables in your diet. You can also use any other leafy vegetables instead of palak. Try this nutritious recipe and make your diet healthy.
Ingredients
½ cupSemolinar
½ cupGram flour
3 tablespoonsoil
½ cupSpinach puree
2Green chilies
1 ½ cupCurd
5Curry leaves
½ teaspoonMustard seeds
2 teaspoonsSesame seeds
1 inchGinger
Salt to taste
Directions
With the help of 250gms of spinach, make puree using mixer
Take a large mixing bowl and add some curd, spinach puree, chopped green chili, ginger pieces
Mix them well to form a smooth batter
Add ¾ teaspoon of salt, lemon juice and oil to it
Mix them well and cover with a plate. Keep it aside for about 15 minutes so that it ferments well
Add the remaining curd and gram flour to it
Mix all the ingredients well until all lumps dissolves and smooth batter is formed
Grease the cooking dhokla with oil
Add 1 tablespoon of salt in the spinach batter and mix it well
Pour the batter in greased vessel and spread it evenly
Pour 2 cups of water in bid vessel and place a net stand inside the vessel
Inside it place the vessel with dhokla batter
Cover the vessel with lid and cook the dhokla on high flame for about 20 minutes
Off them flame and check for whether the dhokla is cooked perfectly or not
Insert a knife inside it so that the knife comes clean indicating that it is cooked perfectly
If the batter sticks to the knife, cook for few more minutes
Allow the dhokla to cool for 10 minutes and flip it on to a big plate
Cut the dhokla into big or small pieces as per your preference
Take a pan and add some oil to it
Add mustard seeds and saute for few seconds
Add curry leaves, green chilies, sesame seeds and suate for 1 minute
Pour the tadka over dhokla with the help of a spoon. The delicious Spinach Dhokla is ready to serve.
Serve it with chutney or even with tomato sauce. Make sure that the batter you prepare for dhokla is not too thick or too thin. You can also prepare it using a pressure cooker and follow the same procedure. However, make sure to avoid placing whistle on the lid. As spinach is an excellent source of Vitamin K, try to include it in your diet. Know Health Benefits of Spinach.
This Recipe Rate :
(1) Reviews