Sweet Pongal Recipe with Jaggery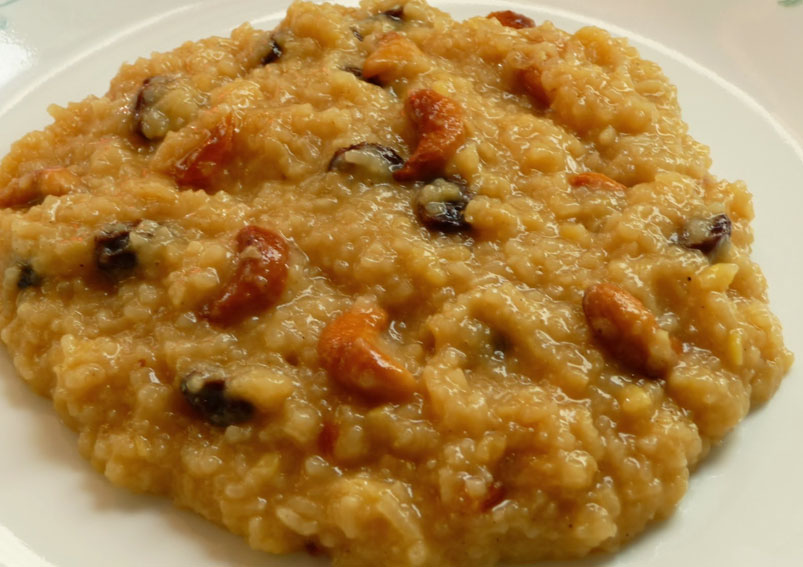 Sweet Pongali also called as Chakkara pongali is a traditional one that is prepared by most of the South Indian people during Dasara. This is one of the famous dishes that are offered to God or Goddess during pooja. Use clove and edible camphor to season as it adds aroma to the dish.
Ingredients
½ cupRice
1/3 cupMoong dal
½ cupGrated jiggery or palm sugar
1/8 tablespoonGreen cardamom powder
Pinch of camphor
2 tablespoonsGhee
1 tablespoonRaisins
2 tablespoonCashewsr
2Cloves
2 tablespoonsChopped coconut pieces
Directions
Clean moongdal also known as Vigna radiate with water
Take a heavy bottom pan or pressure cooker and roast them till they turn fragrant
Wash the rice and add them to the same pan
Pour 2 ¼ cups of water and cook them till they become soft either in pressure cooker till 3 whistles or in the pot
Pour ¼ cup of grated jiggery in a bowl and put it on a low flame
Melt it and keep it aside
When the pressure from the cooker is down, remove the lid
Mash the rice little bit and filter jiggery syrup into the cooked rice lentil
Add green cardamom powder and mix them well till the whole ingredients are perfectly blended with each other
Off the stove and cook for a minute till it begins to bubble up well
Place the pan on a low flame and add ghee to it
Add coconut pieces and fry them till they turn aromatic
Add cashews, clove and fry them till they turn golden brown color
Mix these nuts with rice mixture
The tasty sweet is ready for pooja
Do not add too much of camphor, it may leave bitterness to the pongal. Before adding jaggery to the rice, make sure that you cook it thoroughly soft. Watch cooking recipe here.
This Recipe Rate :
(0) Reviews