Goan Vegetable Curry Recipe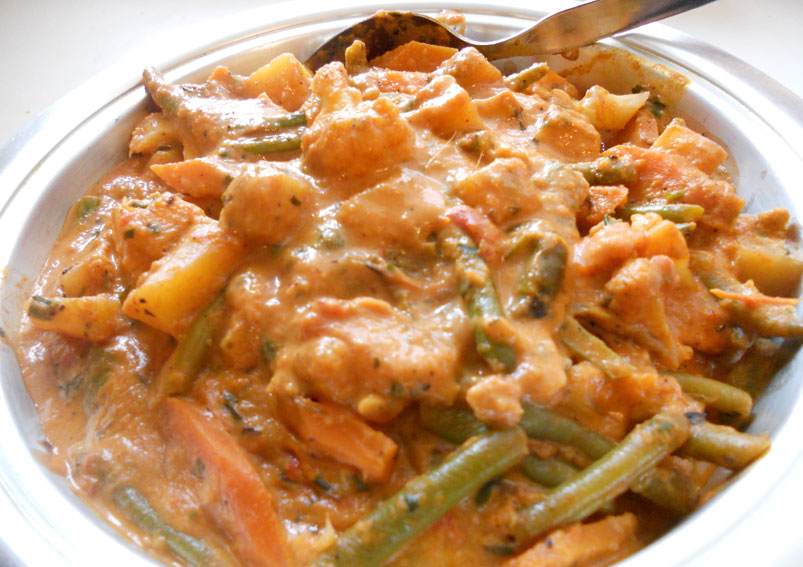 Try this Goan Vegetable Recipe and for sure, you will like to have to have it at least twice a week. You can add prawn or even fish based on your interest. But if you like to prepare it with just vegetables, do not include fish or prawn. Try this easy recipe for your family members.
Ingredients
200 gramBaby corn
2 tablespoonsChopped carrots
5Mushrooms
2French beans
1 tablespoonPotato
1Onions
1 tablespoonGreen chilies
as per requiredWaterr
½ tablespoonCoconut oil
Salt totaste
Directions
Grind all the ingredients included in the masala paste into smooth paste and place it aside
Wash all the veggies and chop them into cubes
Do not chop them into bigger size as it take lot of time to cook
Place a pan on heat and add oil to it
Add chopped onions and saute them for 1 minute till they become translucent
Add chopped veggies and saute them for 5 to 7 minutes on low flame
Stir them for every 2 minutes
Add the masala paste and combine perfectly with all the veggies
Saute them for 3 minutes
Add water, salt, chili powder and green chilies to the mixture
Cover with a lid and cook it under low flame till all the veggies become tender
Stir the curry at intervals for about 20 minutes. If water becomes less, add water to it
The consistency of the curry must not be either too thick or too thin
Off the flame once all the veggies are cooked and garnish it with coriander leaves
Serve the curry with steamed rice. It also tastes good with rotis or chapattis. It benefits everyone from eating more vegetables. Find the Health Benefits of Vegetables.
This Recipe Rate :
(0) Reviews