Tasty Chilli Paneer Snack Recipe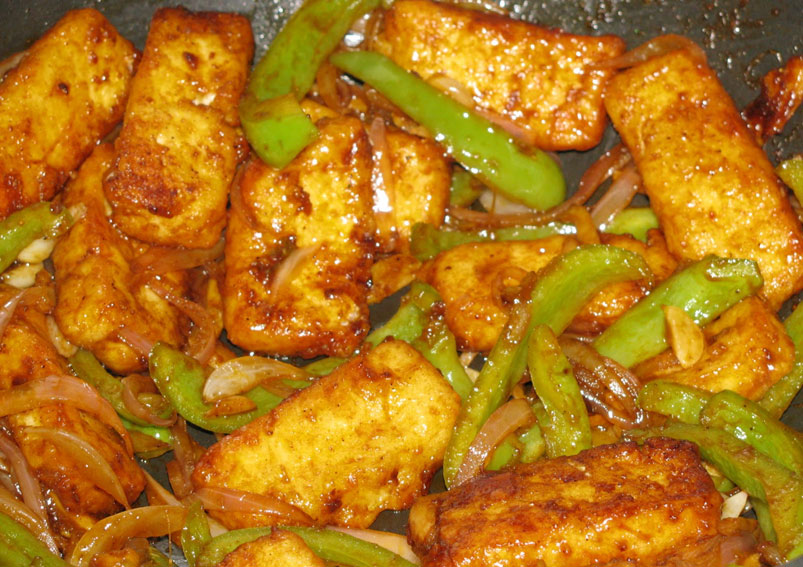 Chilli Paneer is a tasty and nutritious Chinese Recipe that treated as a starter or a side dish with the meal. It is also considered as an appetizer. Add capsicum to prepare the dish more delicious.
Ingredients
250gmsPaneer
2 tablespoonsCorn starch
½ tablespoonRed chili powder
¼ teaspoonBlack pepper powder
2 tablespoonsSesame oil
Salt totaste
1Onion
1Capsicum
1inchGinger
7Garlic cloves
3Green chilies
1 tablespoonSoy sauce
1 teaspoonSweet red chili sauce
½ teaspoonRed chili powder
½ teaspoonBlack pepper
½ teaspoonSugar
1 tablespoonChopped celery
Directions
Slice the paneer into cubes and keep aside in a mixing bowl
Chop the ginger and garlic cloves into small pieces
Chop 3 green chilies and 1 small onion
Chop 1 small capsicum into medium slice and keep all the chopped veggies aside
Now add corn starch, red chili powder, black pepper powder and salt to the paneer cubes
Gently mix them well without breaking the cubes
Place a non stick pan on flame and add oil to it
Place the paneer cubes on the pan s
When the base is slightly cooked, flip to the other side and fry them
Let them fry uniformly to golden brown color. DO not fry them for longer time, as they become harden
Place the fried paneer cubes on a plate
Take soya sauce in a bowl in which the paneer cubes are marinated. Add green chili sauce, sweet red chili sauce, red chili powder and black pepper powder
Mix them well
Add finely chopped ginger, garlic, chilies pieces to the same frying pan
Fry them for 2 minutes and add onions, capsicum pieces to it
Stir them till the edges of onions and capsicum turn to golden brown color
Add the mixed sauces and little bit of salt to it
Stir them well
Add corn starch paste and finally add the fried paneer cubes
Stir and fry them well
Off the flame and place those in a serving bowl.
Finally add coriander leaves, spring onions to the Fried Paneer Dish and serve it to your guest hot. You can also roll them in chapattis and serve the wrap to people. Benefits of Paneer.
This Recipe Rate :
(0) Reviews