Homemade Baked Potato Chips Recipe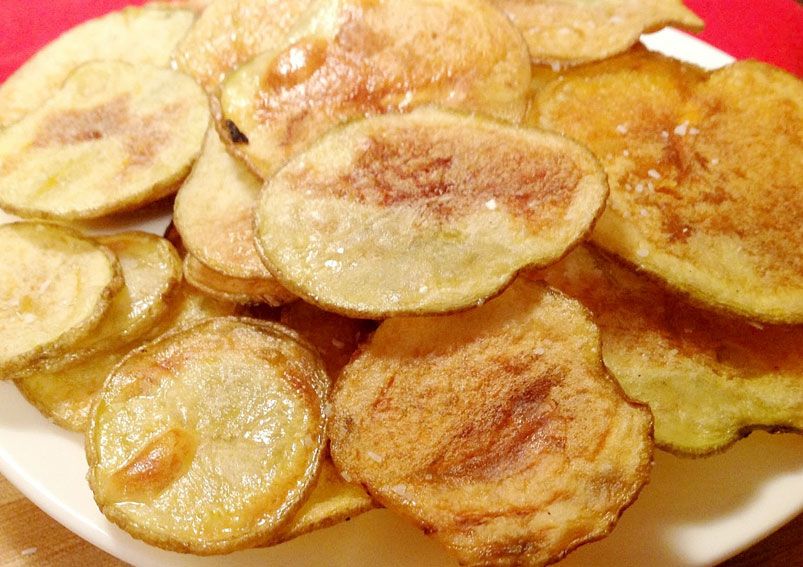 Potato Chips are all time favorite chips for most of the kids. You can prepare them at home and make it snacks for kids during evenings. However, make sure to spend some time, as some preparation time is required to prepare the chips. Have a look.
Ingredients
3Large potatoes
3 cupsWater
Saltto tast
7 cupsWater for boiling
2large bowls
Potatoes slicer
Baking tray
Strainer
Directions
Take a bowl and add 3 cups of water and 1 tablespoon of salt
Peel the potatoes and slice the potatoes using the slicer directly in the bowl that contain water
Immerse the sliced potatoes in water
Take 7 cups of water in a pot or a pan and bring it to boil on high flame. Add 1 tablespoon of salt to it
Blanch the potatoes for about 3 minutes on full flame
Switch off the flame and cover the pot
Allow potatoes to immerse in water for about 3 minutes. Make sure that the potato pieces look translucent. Drain water from the potatoes
Add oil and salt to potato slices and mix them gently
Bake the chips in a pre-heated oven for about 10 minutes under 250 degrees C.
Once they look crisp, remove them from the oven and store them in an airtight container
Take them in a bowl from the airtight container and have it whenever required.
If required, you can season the crisp chips with your favorite herbs and spices. You can have these chips for navaratri fasting or for any other fasting. Health Benefits of Potatoes.
This Recipe Rate :
(0) Reviews