Tasty Aloo (Potato) Chat Recipe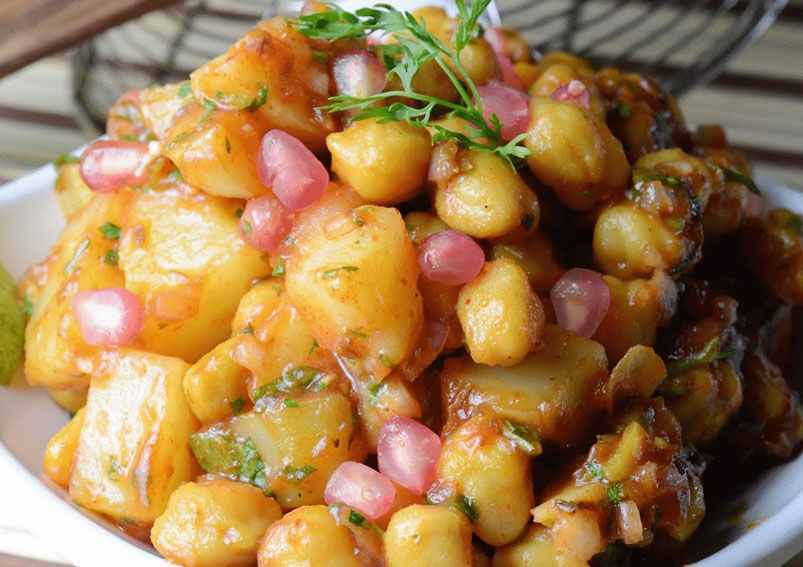 Aloo Chat is an Indian dish made with spiced potatoes. Many vendors all over India sell it during evening times. Have a look at step-by-step preparation of Aloo Chat and try it at home for your kids.
Ingredients
1 ½ cupBoiled chickpeas
1 ½ cupBoiled potatoes
1 tablespoonFinely grated ginger
2 tablespoons choppedGreen chilies
¼ teaspoonChili powder
Saltto taste
1 teaspoonCumin seed powder
½ teaspoonAmchoor powder
2 tablespoonsLemon juice
½ teaspoonSugar
2 tablespoonsFinely chopped coriander leaves
Directions
Wash and dry the chilies. Place a small frying pan on a low flame and add oil to it
Heat oil and add green chilies to it. Cook chilies for about 2 minutes and turn off the heat
Remove them on to plate and keep them aside
Mash the chick peas in a bowl and add potatoes to it
Mix them well. Add ginger, green chili powder, red pepper, salt, salt, black pepper, mango powder, sugar, cumin powder, lemon juice and mix them well
Let all the ingredients sit for 15 minutes so that all the flavors will be absorbed by potatoes and chick peas
Place them in a pan and heat them for about 2 minutes
Remove them in a serving bowl and have it with your family members as snack item.
Serve the dish with tamarind chutney. Make sure to marinate potatoes with all the spices as the taste lies in marinating them. As most of the fiber in chickpeas is insoluble fiber, it is considered to be great for digestive health. People who take more chickpeas have better blood sugar regulation. Know more Health Benefits of Chickpeas.
This Recipe Rate :
(0) Reviews