Monsoon Special Brinjal Pakora Recipe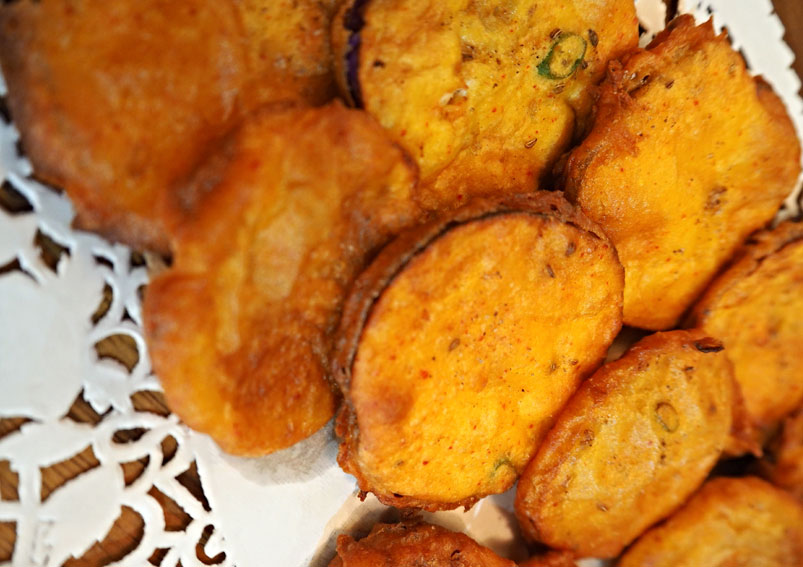 Brinjal Pakora otherwise called as Baingan pakora is a yummy snack recipe that you can have it with your family members in the evening. Crispy outside and soft inside, try this recipe for your kids.
Ingredients
5Small brinjals
1cupGram flour
as per requiredWater
¼ teaspoonTurmeric powder
¼ teaspoonChili powder
½ teaspoonCoriander powder
pinchBaking soda
Saltto taste
Oilfor frying
Directions
Take a mixing bowl and add all the dry ingredients like gram flour, turmeric powder, red chili powder, coriander powder, cumin powder and salt
Mix them together and add required water to it – about 2/3 cup
Mix them together to obtain a smooth batter without any lumps
Slice the brinjals thinly in either round shapes or vertical slices
Dip them in the batter evenly and gently place them in hot oil
Fry them till they turn golden brown in color
Fry both the sides
With the slotted spoon remove them from oil and place them on oil absorbent sheet
Turn off the flame and serve them hot as snacks in the evening with coriander chutney or tamarind chutney
During monsoon, we desire to have a lip smacking hot pakoras with any green chutney. This will definitely fulfill your taste buds.
Brinjal considered as a low calorie food and has healthy nutrition profile. So there is no harm to your diet in having once a week. Know more About Eggplant.
-Neelima
This Recipe Rate :
(0) Reviews