Indian Kadai Masala Chicken Recipe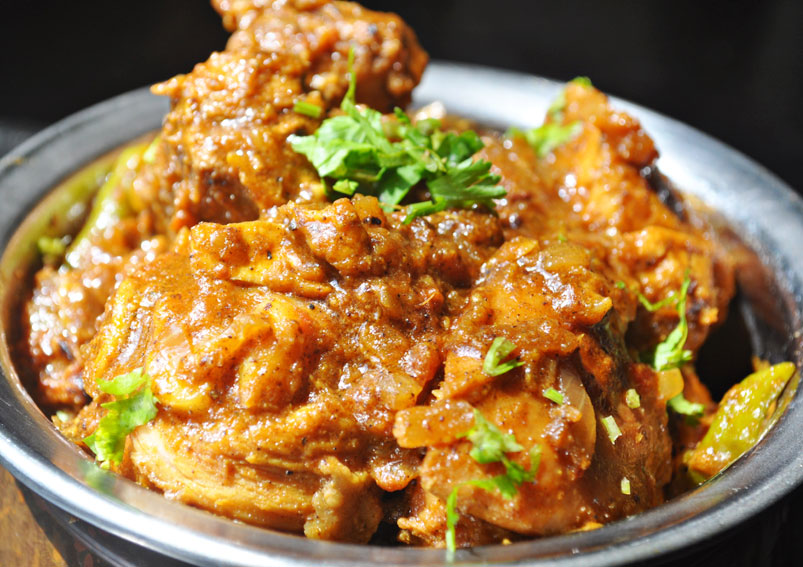 Know How to Make Chicken Kadai Recipe by just following step by step preparation process given below. It is one of the most popular Non Vegetarian recipe in India. Have a glance at the recipe.
Ingredients
1 kgChicken
4 tablespoonsOil
1 cupOnions
1 ½ cupTomatoes
2 tablespoonsCoriander leaves
2 teaspoonsGinger garlic paste
3 teaspoonsGaram masala powder
2Bay leaves
3Red chilies
2 teaspoonsCoriander seeds
1 teaspoonRed chili powder
Saltto taste
Directions
Place a pan on flame and add oil to it
Add bay leaves once the oil is hot
Add onions and saute them till they turn golden brown in color
Add ginger garlic paste to it
Saute it for about 2 minutes on low flame
Grind coriander seeds and chili powder
Add the powder to the onion mixture
Stir them well
Add tomatoes and cook till they become fluffy
Add chicken pieces, salt and red chili powder
Mix them well and cover the pan with lid
Cook till the chicken becomes tender
Sprinkle garam masala powder over the chicken pieces and mix it well
Off the flame and garnish it with coriander leaves
Have it with hot rotis or boiled rice.
-Neelima
This Recipe Rate :
(0) Reviews