Tasty Eggless Omelet Recipe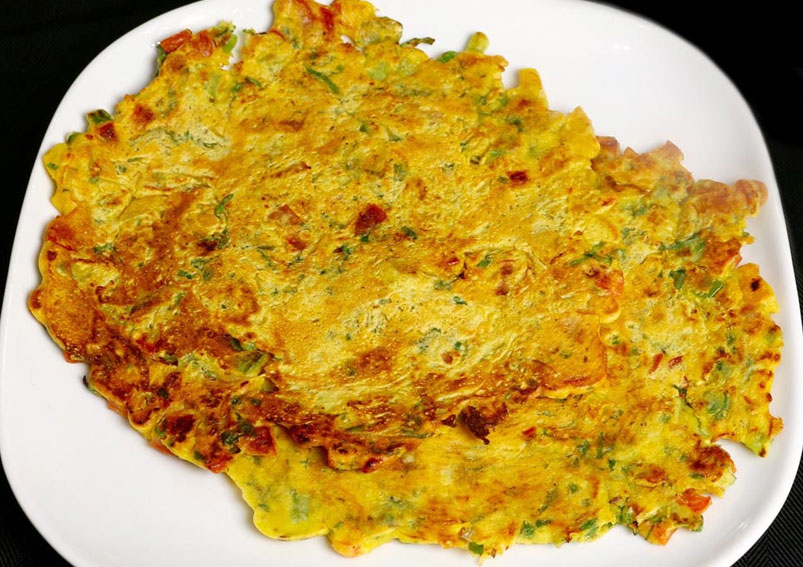 Try this tender and fluffy Egg Free or Eggless Omelet Recipe and top it with sour cream at the end. You can also add any fruit or vegetable to make your dish delicious.
Ingredients
¾ cupBesan
Saltto taste
½ teaspoonCumin seeds
¼ teaspoonBlack pepper
1Finely chopped green chili
½ cup finely choppedTomato
½ cupSpinach
½ cupWater
2 tablespoonsOil
Directions
Take a mixing bowl and add beasn, cumin, black pepper, salt and water
Mix all the ingredients well to a smooth batter. The consistency should be like dosa batter or pancake batter
Add chopped green chilies, finely chopped tomatoes, spinach and mix them well
Place skillet on flame and oil to it
Pour ½ cup of batter mixture in skillet and spread it evenly on the pan
Wait for 30 seconds till the ends of the batter turn golden brown in color and crispy
Flip the omelet using Kitchen Utensil spatula
Wait for 30 more seconds until it is cook and remove it on to a plate
Repeat the same process with the remaining batter
The tasty Eggless Omelet is ready to serve
Eat this with Champagne Fruit Punch on a cool evening.
-Neelima
This Recipe Rate :
(0) Reviews