Crispy Potato Bread Cutlet Recipe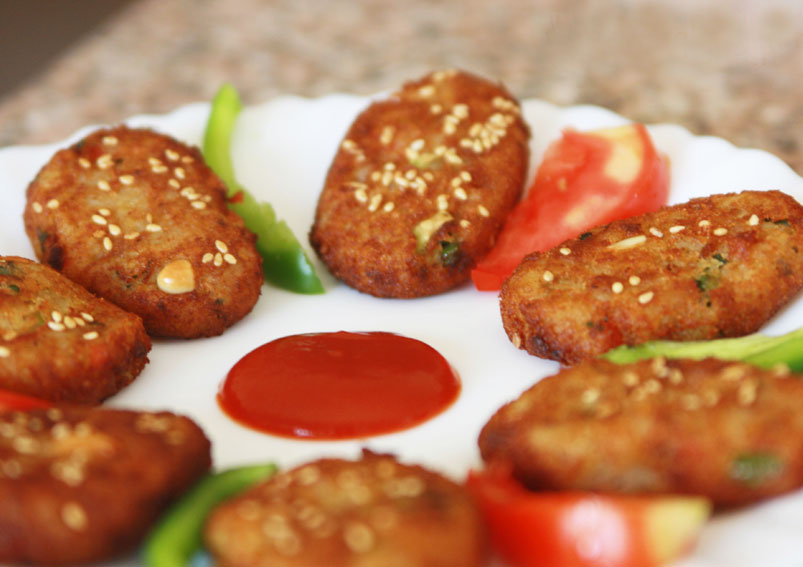 Try this most popular monsoon snacks recipe - Indian Bread Cutlet Recipe and make your family members enjoy the snacks eating at home. It really tastes good with a cup of hot tea of coffee on a rainy day.
Ingredients
2Boiled potatoes
1Green chili
1 inchGinger piece
4 teaspoonsBoiled peas
¼ teaspoonRed chili powder
1 teaspoonGaram masala powder
¼ teaspoonMustard seeds
5 leavesCurry leaves
Saltto taste
3Bread slices
Oilfor frying
Directions
Boil the potatoes, remove its skin and mash it completely
Place a pan on flame and add 1 tablespoon of oil to it
Add mustard seeds and let them splatter for few seconds
Add mashed potatoes to it along with green chopped green chilies, boiled peas, red chili powder, garam masala powder and salt
Mix all the ingredients well and fry them for 3 to 4 minutes
Take water in a bowl and dip the bread slices in it
Make sure that the bread slices get wet and remove them immediately after they get wet
Press the slice with hand and drain excess water from the slice
Place a potato ball in the center of the slice and cover it evenly
Then press with hand lightly so that it forms a smooth flat cutlet
Continue the process with the remaining slices
Place a heavy bottomed pan on flame and add oil for frying the cutlets
When the oil gets hot, add two bread cutlets at a time and fry them till they turn into golden brown in color from all sides
Remove them from oil and place them on kitchen paper. Continue the same with the remaining cutlets
Transfer them to plate and add chat masala powder over it.
Have it with Tomato Chutney. The Bread Cutlets taste good when they are hot. You need to squeeze out all the water from the bread before placing the potato mixture in oil. Make your snacks healthy by adding some veggies like carrots, beans or sweet corns.
-Neelima
This Recipe Rate :
(0) Reviews