Lip Smacking Kesari Gujiya Recipe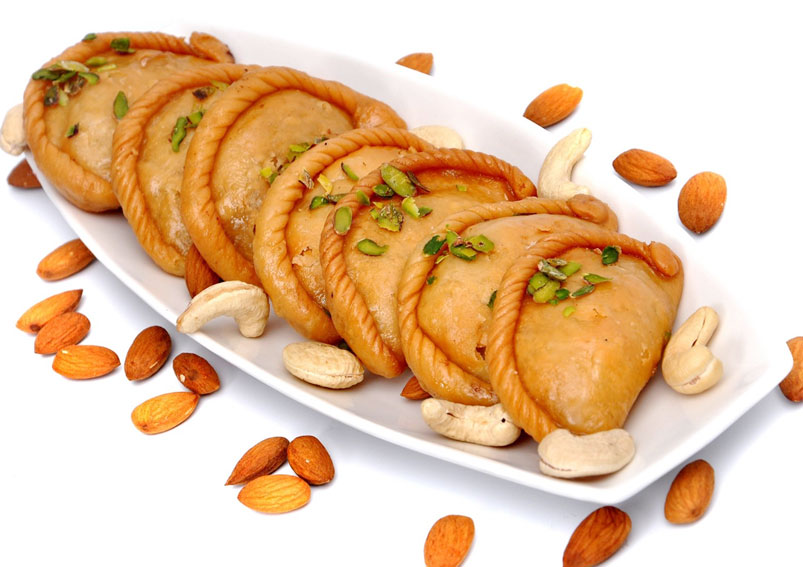 Tasty Kesari Gujiya is definitely a lip smacking recipe. Have it as snacks during evening times with spicy tea and enjoy the flavor of tasty sweet.
Ingredients
2 cupsKhoya
2 cupsPowdered sugar
3 cupsAll purpose flour
6 tablespoonsClarified butter
1 tablespoonRaisins
2 cupsWarm water
Oil fordeep frying
1 cupSugar
1 tablespoonPistachios
1 teaspoonCardamom powder
1 tablespoon choppedCashew nuts
Directions
Combine flour with ghee and add warm water to it.
Add required water and make smooth dough out of it.
Cover it with a wet cloth and set it aside.
Place a heavy bottomed pan on flame, add oil to it.
Fry the Khoya for few minutes till the raw flavor disappears.
Off the flame and set aside to cool.
Add cardamom powder, raisins, pistachios, cashews, sugar powder, sugar and mix them well.
Knead the dough for two minutes and divide it into 20 equal balls.
Roll each ball to 4 inch diameter and place the Khoya mixture in center of each disc.
Wet the edges and fold the circle.
Press the ends with hand so that the mixture does not come out.
Place a deep pan on flame and add oil to it.
Add 2 to 4 patties at a time and fry them on medium flame.
Reduce the heat and fry them till they become golden pink in color.
Remove them from oil and place them on oil absorbent paper.
Reduce the heat and fry them till they become golden pink in color.
The Khoya Gujiya tastes good with Spicy Hot Tea during the evening times.
-Neelima
This Recipe Rate :
(0) Reviews