Delicious Kuska Biryani Recipe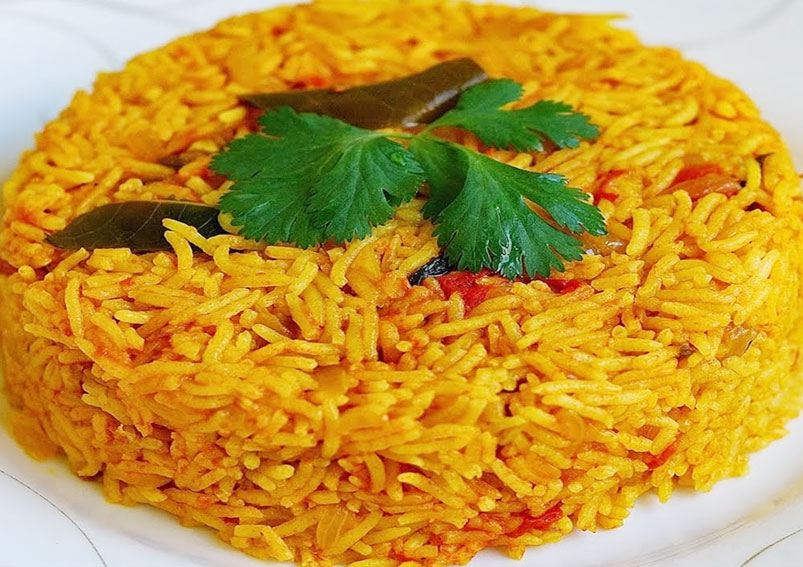 Kuska Biryani also called as Plain Biryani is easy to prepare and is a popular biryani across Tamil Nadu. It is original biryani prepared by mothers and grandmothers. Have a look and try at home.
Ingredients
1 cupBasmati rice
2 cupsCoconut milk
1Cinnamon
1Cardamom
1Cloves
1Bay leaf
½ cupMint leaves
¼ cupGhee
2 tablespoonsCooking oil
½ teaspoonBlack stone flower
1 teaspoonGinger garlic paste
1Onion
1Tomato
2Green chilies
1 teaspoonRed chili powder
½ teaspoonCoriander powder
1 tablespoonCurd
½ cupCoriander leaves
Saltto taste
Directions
Wash rice with water and add required water, coconut milk to it.
Place the pressure cooker on flame and add oil, ghee to it.
Add all the spices – cinnamon, clove, bay leaf, black stone flower and cardamom.
Saute them for 2 minutes.
Add chopped onions and fry for 1 minute.
Add ginger garlic paste and fry till the raw smell from it disappears.
Add chopped tomatoes, green chilies, chili powder and mint leaves.
Saute them for 2 more minutes.
Add soaked rice and fry for 3 minutes.
Add required water and salt to it.
Mix them well and add coriander leaves at the end.
Close the lid and pressure cook for 10 minutes till the rice becomes tender.
Off the flame and wait till the pressure releases from the cooker.
Open the lid and serve it hot with tasty Spicy Mutton Curry and Tomato Onion Raita.
-Neelima
This Recipe Rate :
(0) Reviews