Cream Sandwich Cookies Recipe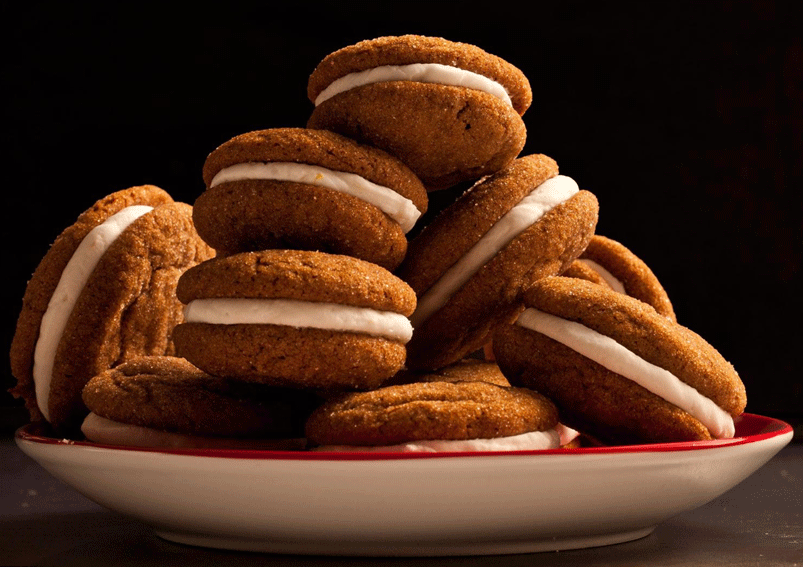 Celebrate your party with Delicious Sandwich Cookies filled with yellow, orange and white cream. Blast your party with yummy food items. Have a look at the cookies recipe preparation method given underneath in detail.
Ingredients
1 ¼ cupAll purpose flour
¾ cupGranulated sugar
¾ cupUnsweetened cocoa
½ teaspoonKosher salt
½ teaspoonBaking powder
1 cupButter
½ cupShortening
½ cupButter for filling
3 ¼ cupsPowdered sugar
1 teaspoonVanilla extract
Directions
Take a mixing bowl and add all purpose flour, granulated sugar, unsweetened cocoa, salt and baking powder.
Beat them at low speed initially and then on high speed using electric stand mixer.
Add 1 tablespoon of butter and beat it on medium speed.
Smooth dough is formed as a result. Press the dough with fingers and divide it into two halves.
Place each half between two sheets of parchment papers and roll it into 1/8 inch thickness.
Chill it for half an hour.
Start preparing filling.
Take a mixing bowl and add shortening, ½ cup butter.
Beat them until they become smooth.
Gradually add powdered sugar, salt and vanilla. Mix them well.
Remove the dough from refrigerator and remove the parchment paper.
Cut the dough into 2 inch round cookies and immediately place them on parchment paper lined baking sheets.
Bake them in oven under 350 degrees F for about 6 minutes.
Flip the cookies on to the other side and bake it for 5 more minutes.
Remove them from oven and cool them completely.
Repeat the same process with the remaining part of the chilled dough.
Place vanilla mixture on top of one cookie and top it with another cookie to form a sandwich.
Repeat the same with remaining cookies and serve it as snacks during kitty parties or get together party.
Add orange or yellow food color to the vanilla cream if you want your cookies to look colorful.
-Neelima
This Recipe Rate :
(0) Reviews