Kaju Barfi Recipe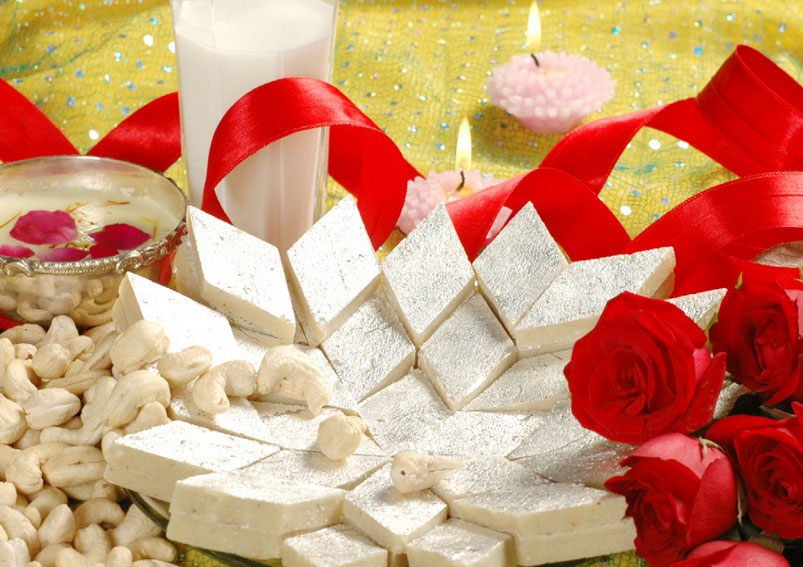 Diwali Special - Want to prepare a sweet dish. Here is the procedure for the preparation of Kaju Barfi with simple ingredients. Take a glance over the cooking directions.
Ingredients
1 Cupcashew
½ cupsugar
5 teaspoonsof water
1 teaspoonof ghee or coconut oil
1 teaspoonchopped rose petals or 6-10 strands of saffron
Directions
Take the cashews and powder it using a mixer or a blender.
Place a pan with low heat and add water to it.
Once it is heated, add the sugar to it and thicken it.
Meanwhile, grease a plate with ghee or use butter papers if available.
Once the syrup is thick, add cashew mixture into it in low flame.
Cook the cashew mixture 7-8 minutes until it blends.
Remove the whole lump into the plate or a pan.
Add the ghee or oil to this mixture, knead the cashew mixture, when it is hot.
Grease the butter paper with ghee or oil and flatten the dough using a tray or a plate.
Place the butter paper on the top with the thickness of 3-5 mm in the dough.
Once the mixture cools down, remove the butter paper.
Make the dough into the rolls in a proper shape to ensure that it should be in shape.
When it cools, down, to the room temperature, cut it into a diamond shape or a square shape using a knife.
If you want to prepare an instant Barfi, you can directly add the powdered sugar to the cashew dough, which is quite easy and simple to prepare.
Yummy Kaju Barfi is ready to serve. If you are crazy about Barfi you can also try Coconut Barfi.
Note: For making kaju barfi more interesting and tasty, you can roast saffron in a pan until coarsely powdered and make it as a mortar-pestle. Add the powdered saffron into the cashew dough. You can also use rose water in the sugar syrup for more pleasant taste and smell.
-Sravanthi
This Recipe Rate :
(0) Reviews