Time pass healthy Waffles for breakfast Recipe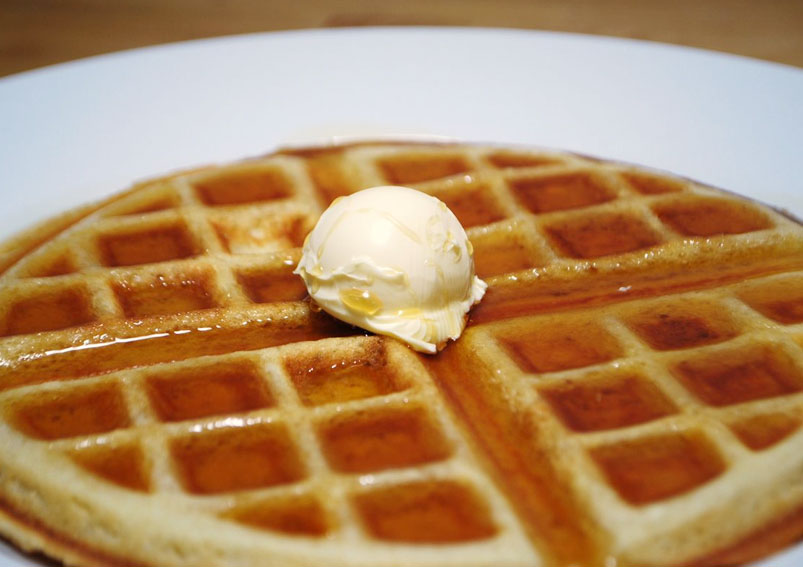 Fluffy Waffles are easy to prepare and healthy to consume. It is considered as a healthy breakfast. This can be prepared in a short time as a healthy food. The egg flavor makes kids to enjoy the breakfast. Egg is considered as the best sources of protein. It is rich in omega3 fatty acids, which will help in maintenance of brain function and normal vision. It helps to maintain strong immune system.
Ingredients
1 1⁄3 cupsflour
4 teaspoonsbaking powder
1⁄2 teaspoonsalt
2 teaspoonssugar
2 eggsseparated
1⁄2cupbutter, melted
1 3⁄4 cupsmilk
Directions
Take a large mixing bowl, whisk together all dry ingredients.
Separate the eggs, adding the yolks to the dry ingredient mixture, and placing the whites in a small mixing bowl.
Beat whites until moderately stiff; set aside.
Add milk and melted butter to dry ingredient mixture and blend.
Fold stiff egg whites into mixture.
Ladle mixture into hot waffle iron and bake.
Yummy Fluffy Waffles are ready to serve, tastes better when hot.
Saturated fat - 3.3 g
Polyunsaturated fat - 1.4 g
Monounsaturated fat - 4.1 g
Cholesterol - 373 mg
Sodium - 124 mg
Potassium - 126 mg
Total Carbohydrate - 1.1 g
Protein - 13 g
Vitamin A - 10%
Calcium - 5%
Vitamin D - 21%
Vitamin B- - 12-18%
Vitamin C - 0%
Iron - 6%
Vitamin B6 - 6-5%
Fluffy Waffles is a nutritional food, which can begin the day with a healthy breakfast and make the day stay energetic. Egg is the essential source of proteins, vitamins and minerals, which helps in building a healthy body. Egg helps to control the cholesterol levels of the body and makes body active. As it is high in proteins and low in calories, it helps to lose weight and helps to maintain the immune system. It helps to lower the risk of heart problems.
This Recipe Rate :
(0) Reviews