Texan Palak Rice Recipe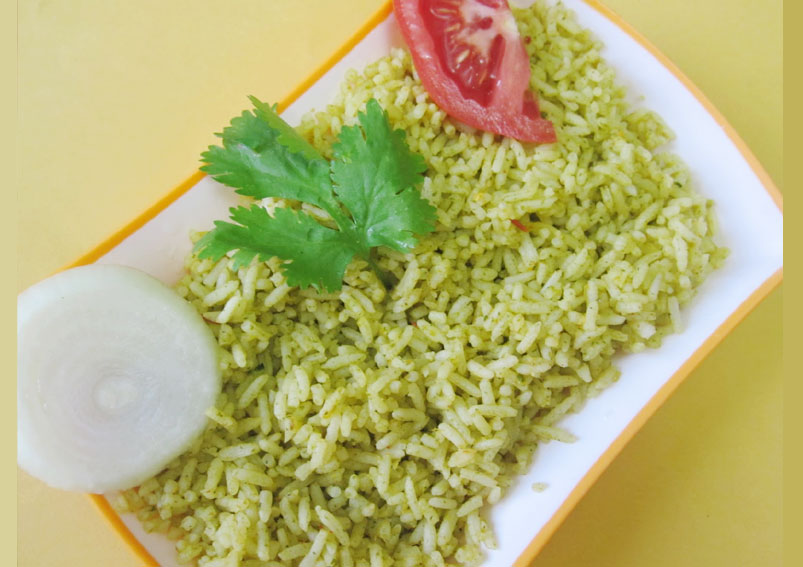 Texan Palak Rice is a healthy meal which detoxifies the body and helps to maintain good vision. Try out this healthy and tasty food for your family members.
It provides a wide range of nutrients which are required for the body. It has high calcium contents, which helps in maintaining good bone strength. The sensuous smell emulating while cooking the highly nutritious Palak along with lemon juice, which is a great source of citric acid, makes any foodie to wait and taste the starch filled Palak Rice.
Ingredients
125 gfrozen spinach, defrosted
7-8green onions
1 teaspoonsunflower oil
4 clovesgarlic, finely chopped
2-3 tablespoonsfinely chopped fresh dill
1 tablespoondried dill
400 glong-grain white rice
2 tablespoonslemon juice
Salt and black pepper
Directions
Wash it properly and let it dry, then chop it finely.
Chop the onions into small pieces, including most of the green parts.
Take a sauce and put 1 teaspoon of oil in it. Heat for 1 min
Put garlic paste in a sauce pan and Stir-fry it for 30 seconds
Add the spring onions and stir-fry for 2-3 minute unless it becomes reddish brown.
Add the spinach in the onion and garlic paste and mix it well.
Cook the paste further 1 minute.
Now add rice in a paste and mix it. Let the paste to cook for 1 minute
Pour 750 ml of water (almost double of rice quantity), lemon juice and salt and pepper to taste.
Cover the saucepan and let the mixture boil for 20 minutes, until the water gets soaked by rice.
Green leafy vegetables help to detoxify the body. It provides a wide range of nutrients and phytochemicals to keep the body healthy.
This Recipe Rate :
(0) Reviews