Masala Chass Spicy Buttermilk Recipe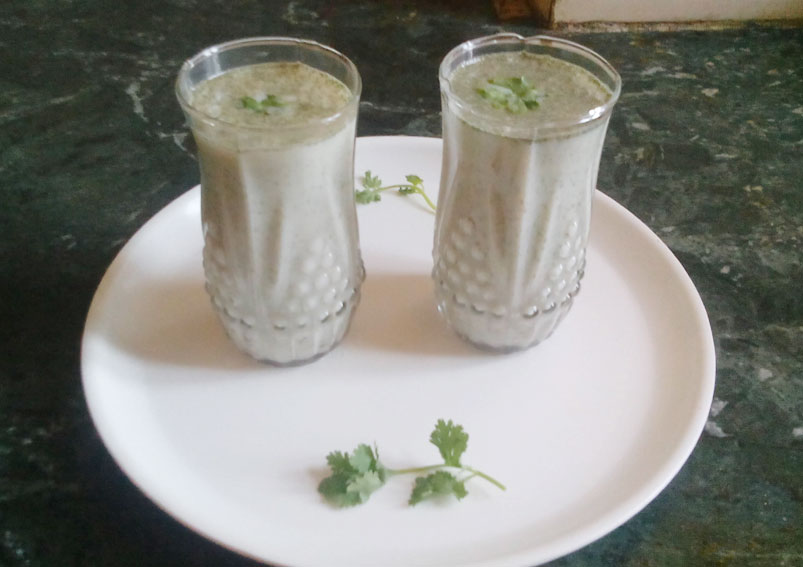 Masala Chass (Spicy Buttermilk) is a healthy yogurt-based drink, popular in India. This drink is very easy to make and it has a blast of flavors. Chass is a great compliment to any meal, especially during summers. Let's try this recipe.
Ingredients
4 cupsfresh curd (dahi), whisked
1/2 teaspoonblack salt (sanchal)
2black peppercorns
1 teaspooncumin seeds (jeera)
1-1/2 teaspoonblack salt
1green chili, finely chopped
1/2 inchginger
Fewcoriander leaves, finely chopped
1/2 teaspoonchaat masala
Directions
In a pan roast cumin seeds and keep it aside to cool down and then grind into a smooth powder and you can even powder it in hand mortar and pestle and keep it aside.
De-seed the chili and chop roughly and keep it aside.
In a blender add 4 cups curd, 1 chopped green chili, 3/4 teaspoon roasted cumin powder, 1-1/2 teaspoon black salt, 1/2 tsp black pepper powder, 1/2 teaspoon chaat masala, 1-inch ginger, red chili, chopped coriander leaves, and pour 3 cups chill water and blend until smooth.
Garnish with some chaat masala and a coriander leaf and serve it chill.
Notes
Serve this Chass with your everyday meals in this Summer and you can even enjoy it before or after having meals.
Roasted jeera (cumin seeds) powder can be stored for many days in an airtight container and use it whenever needed for chass.
You can do a lot of variations in this chaas recipe, you can add curry leaves and asafoetida for making your own favorite version.
Check More Lassi Recipes
Meghna Nath
This Recipe Rate :
(0) Reviews