Yummy Stuffed Corn and Capsicum Wrap Recipe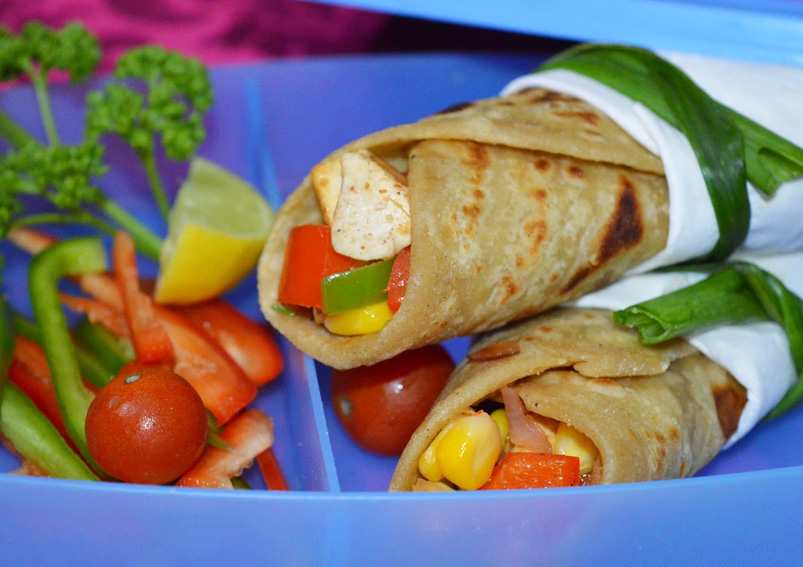 Source: www.exoticneasy.com
Stuffed Corn and Capsicum Wrap are a lovely dish that you can very easily prepare at your home. This is truly the best vegetarian recipe and also a great dish which can be eaten at any time in the day. This wrap has a nice combination of corn and capsicum. This dish has a nice taste, flavors, and aroma. This is a perfect dish for your kid's and it will be a hit at any parties. Try this yummy and easy dish at your home.
Ingredients
For The Dough
1/2 cupwhole wheat flour (gehun ka atta)
1 tspoil
saltto taste
whole wheatflour (gehun ka atta) for rolling
oilfor cooking

For The Stuffing

1 tbspoil
1/2 tspfinely chopped green chilies
1/4 cupfinely chopped onions
1 cupcooked corn (makai ke dane)
1/4 cupfinely chopped capsicum
1/4 cupfinely chopped tomatoes
1/2 tspchili powder
saltand to taste

Other Ingredients

8 tbsppizza sauce (easily available in the market)
Directions
For the dough
In a deep bowl, add wheat flour, oil, salt, and enough water and knead a soft dough.
Divide the dough into equal portions and roll each portion into a 175 mm. (7") diameter circle.
Heat a non-stick tawa (griddle), cook the rotis, using a little oil and cook till both sides are golden brown in color and keep it aside.
For the stuffing
Heat the oil in a broad, non-stick pan, add the green chilies and onions and fry on a medium flame for 1 minute.
Add the corn, capsicum, tomato and chili powder, salt and pepper, mix well and cook on a medium flame for 2 minutes and stir occasionally.
Divide the stuffing into equal portions and keep it aside.
How to proceed
Place a roti on a clean, dry surface and place a portion of the filling in the center of the roti.
Put 2 tbsp of the pizza sauce over it and roll it up tightly and place it in a plate and serve it with fresh salad.
Nutrient values per wrap
Energy 129 cal
Protein 3 g
Carbohydrates 18.6 g
Fiber 1.4 g
Fat 5.3 g
Cholesterol 0 mg
Vitamin A 120.7 mg
Vitamin B1 0.2 mg
Vitamin B2 0.1 mg
Vitamin B3 0.7 mg
Vitamin C 14.8 mg
Folic Acid 15.9 mg
Calcium 16.7 mg
Iron 0.9 mg
Magnesium 0 mg
Phosphorus 0 mg
Sodium 6.1 mg
Potassium 119 mg
Zinc 0.5 mg
Meghna Nath
This Recipe Rate :
(0) Reviews