Tasty Mango Kulfi Recipe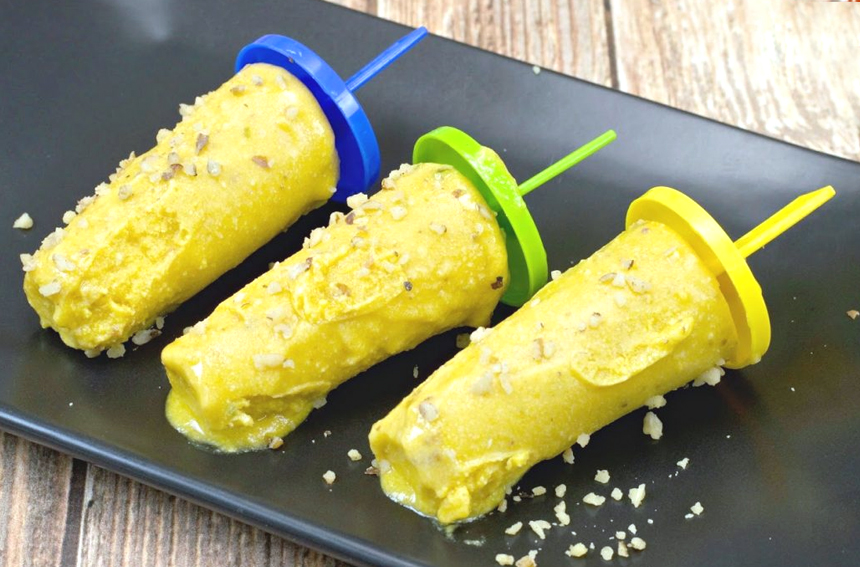 Source: https://www.subbuskitchen.com
Creamy, tasty, tangy Mango Kulfi is a popular dessert of India which you can easily prepare at your home with few minutes. This Kulfi has a nice tangy taste and also has a nice creamy flavor. This dessert is perfect for any special occasion and can also be served as a dessert after any meal. Let's follow this recipe.
Ingredients
1/2 cupFresh mango pulp
1/2 cupMangoes
1/4 tspSaffron (kesar) strands
1 tbspWarm milk
1 tbspCornflour
4 1/2 cupsFull-fat milk
5 tbspSugar
1/4 tspCardamom (elaichi) powder
Directions
In a bowl, add the saffron and the warm milk, mix it well and keep it aside and add cornflour and 2 tbsp of water, mix it well and keep it aside.
Heat the milk in a deep non-stick pan and cook on a medium flame for 6 minutes, and stir occasionally.
Add the cornflour-water mixture and sugar, mix it well and cook on a low flame for 20 to 25 minutes and stir occasionally and scrap the sides.
Switch off the flame and allow the mixture to cool completely.
Once cooled, add the mango pulp, saffron-milk mixture and cardamom powder and mix it well by using a whisk.
Add the chopped mangoes and mix it gently and pour the mixture into Kulfi molds and freeze overnight.
To de-mold, allow the molds to remain outside the freezer for 5 minutes and then de-mould by inserting a wooden skewer stick or a fork in the center of the Kulfi and pull it out and serve it.
This Recipe Rate :
(0) Reviews