Quick Mango Mousse Recipe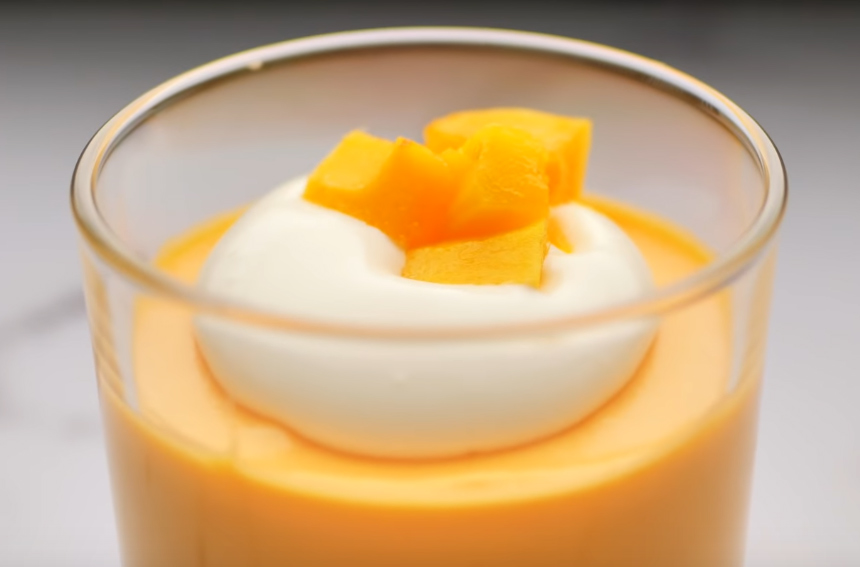 Source: youtube.com
Mango Mousse is a delectable dessert recipe. This mousse recipe is made using whipped cream, mango and gelatin. It is a kids favorite dessert recipe and is soft, creamy and melt-in-the mouth. You can serve this dessert in any parties and can also be served as a dessert after any meal.
Ingredients
1 1/2 cupschopped mangoes
1 1/2 cupsbeaten, whipped cream
2 tbspsugar
For The Topping
Directions
In a blender, add mangoes and sugar and blend it till smooth and keep it aside.
Put the whipped cream- mango mixture in a piping bag and cut off the tip and keep it aside.
In a bowl, add the whipped cream and ¼ cup of the prepared mango mixture and fold it gently and keep it aside.
Take a shot serving glass, put 1½ tbsp of the remaining prepared mango mixture in the glass and tap it lightly.
Add ¼ cup of the cream-mango mixture in the glass and top it with chopped mangoes and keep it in the refrigerator for 1 hour or till the mousse sets and serve it chill.
Nutrition Info
Energy: 199 cal
Protein: 0.8 g
Carbohydrates: 26.6 g
Fiber: 0.4 g
Fat: 9.9 g
Cholestero: 0 mg
Vitamin A: 1426.4 mg
Vitamin B1: 0 mg
Vitamin B2: 0 mg
Vitamin B3: 0.5 mg
Vitamin C: 8.3 mg
Folic Acid: 0 mg
Calcium: 8.4 mg
Iron:0.7 mg
Magnesium: 0 mg
Phosphorus: 0 mg
Sodium: 26.5 mg
Potassium: 106.6 mg
Zinc: 0.1 mg
This Recipe Rate :
(0) Reviews