Peanut Chicken Noodles Recipe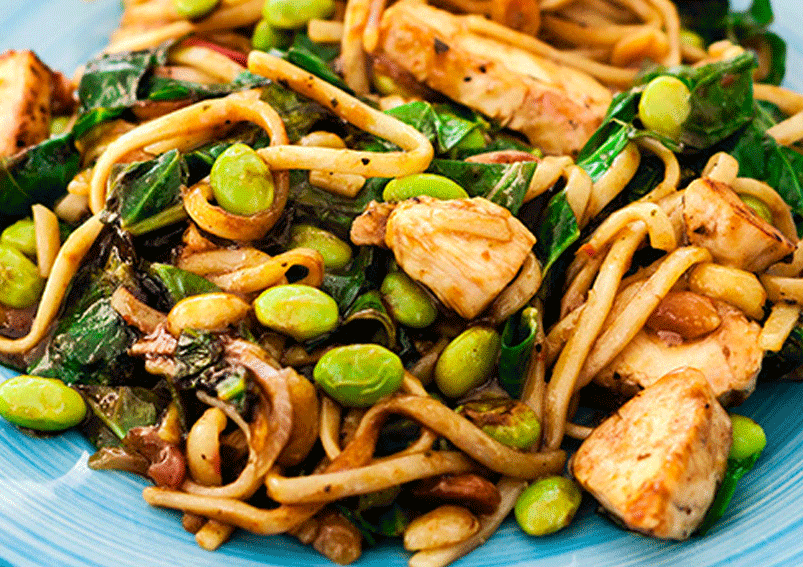 Peanut chicken noodles are the best recipe for noodle lovers. This is basically a noodle dish, but with Peanuts and chicken make it rich fat dish. As we cook noodles in many different ways so, here is the recipe for this special dish and create a new flavor of taste.
Ingredients
250grice noodles (packed)
1 poundboneless chicken
1 teaspoonred pepper powder
2 handfulsbean sprouts
3 tablespoonssweet chili sauce
4 tablespoonssoy sauce
4onion slices
50 gramspeanuts (chopped)
20gramsfresh coriander sling
Directions
First, open the noodles pack and Cook according to instructions mention in the pack.
In between, put the fresh chicken and pepper in the dish.
Cook it for 2 minutes.
Now drain the noodles and keep in a bowl.
Stir through the bean sprouts.
Now, fluff up the soy sauce and chili sauce.
Mix noodles, chicken, pepper and spring onions.
It is almost done, just spread out over the crushed peanuts and garnish with coriander leaves.
Just serve the dish hot. You can add some ketchup to taste. Peanut is one of the word healthiest food.
-Nandini Chauhan
This Recipe Rate :
(0) Reviews