Besan Ka Chila - Veg Recipe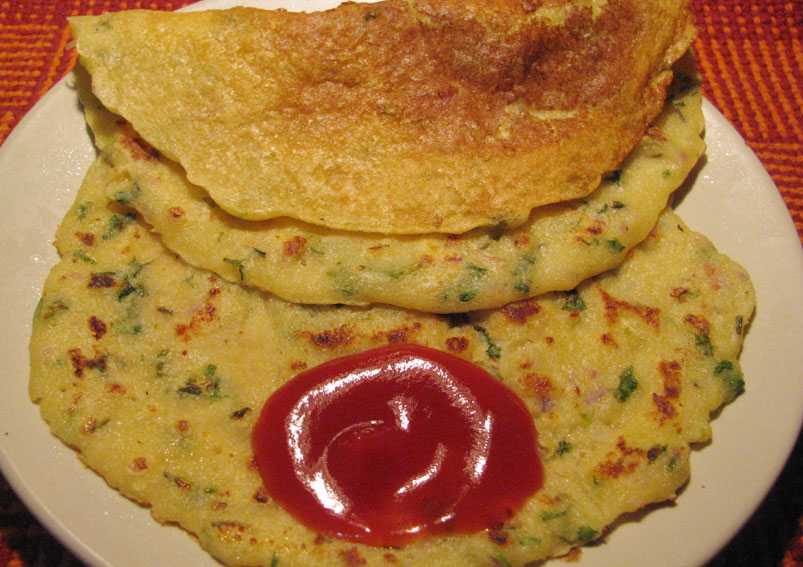 Besan ka chila is a tiffin recipe, which includes Gram flour and vegetables only. The recipe is easy and less time consuming. To prepare this Indian breakfast recipe all you need to have the necessary ingredients. Glance over the preparation method underneath.
Ingredients
2 cupsBesan
1 largeOnion (finely chopped)
1 Green Chilli(finely chopped)
1 bunch leavesCoriander (finely chopped)
1 teasponAjwain
1 teaspoonBlack Pepper Powder
1/2 teaspoonRed Chilli Powder
1 teaspoonChat Masala
1 teaspoonCoriander Powder
1 1/2 cupwater to make batter
Oil forcooking
Saltto taste
Directions
First, put all the ingredients except water in a big bowl.
Now, start adding small quantities of water to make a smooth paste.
When it comes to a dropping consistency or just like dosa batter, stop adding water.
Keep the paste aside.
Now,put a nonstick teavy bottom tawa on flame.
Spread 1-teaspoon oil and heat.
Now spread 1 serving spoonful of batter evenly on it.
Cover it with lid just for a minute so that it should cook completely.
Then remove the lid and put some oil on the other side.
Let it be brown & crispy from both sides.
Serve hot with green chutney or sauce
It is traditional Indian breakfast dish. Serve hot with green Chutney. Know more about gram flour.
-Nandini Chauhan
This Recipe Rate :
(0) Reviews