How to make Gujhiya Recipe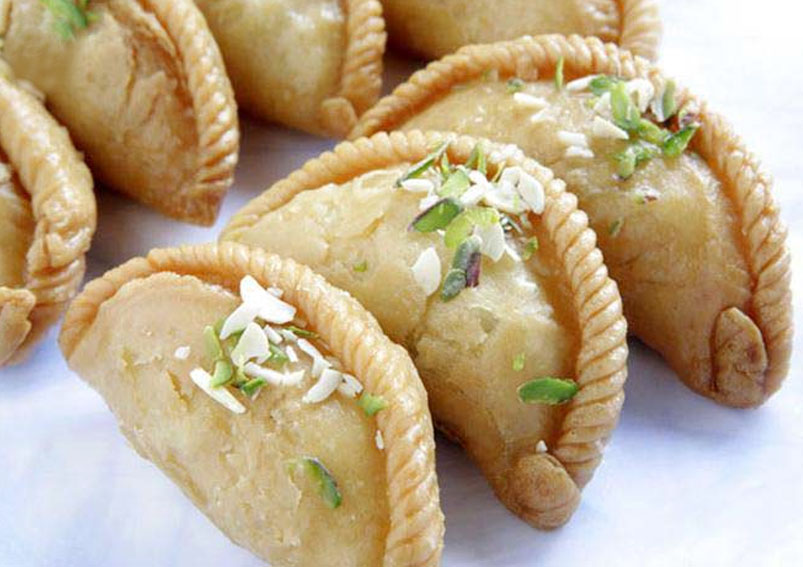 Gujhiya is a classic Indian sweet among Holi special dishes. It is made with all purpose flour, mawa and nuts. Gujhiya is crispy from outside and rich in taste from inside. Let us see how to make gujhiya can be prepared.
Ingredients
For outer cover:
1 cupAll purpose flour
1 tablespoonGhee (butter)
¼ cup + 1 tablespoonWater
A pinchof salt
For stuffing:
½ cupMawa(khoa)
4Cashew nut (chopped)
4Almonds (chopped)
12-15Raisin
1 tablespoonCoconut (desiccated)
3 tablespoonsSugar
¼ teaspoonCardamom powder
A pinchGrated nutmeg
For fryingGhee or oil
Directions
Put a pan on medium flame and heat the mawa.
Cook it for 3-4 minutes, switch off the flame when it turns brown in colour.
Then add cashew nuts, almonds, raisin.
Now keep it aside to get cold.
Meanwhile, take all purpose flour, salt and ghee and make the dough.
Start adding little water at a time and make smooth dough.
Cover it and put aside for 15 minutes.
Now, add sugar, cardamom powder, nutmeg, cashews, almonds and raisins, please make sure that mawa is cold otherwise, the sugar will start melting.
Mix it well with hands.
Now, divide the dough into 10 equal portions. Roll into a smooth ball and flatten it between your palms.
Roll the balls into a 4 inch diameter circle using a rolling pin and rolling board.
Fill about a tablespoon, stuff in central.
Apply little water around the edges with your finger.
Fold it into a semicircle. Seal the edges by pressing it. You can use gujhiya molds as well.
Please make sure that gujhiya sealed tightly. If it is not sealed properly then it will open up while frying and it will be a big mess.
Cover the gujhiya with kitchen towel and do not let them get dry.
Now, put a heavy bottom flame and heat the ghee or oil.
Once it is hot enough, then fry a few at a time.
Fry it till it gets golden brown and crispy from all sides.
Gujhiya is ready to serve. Keep it in airtight container.
Gujhiya is a fried pastry filled with a mixture of mawa and nuts.
-Nandini Chauhan
This Recipe Rate :
(0) Reviews