Sarson Ka Saag (mustard green curry) Recipe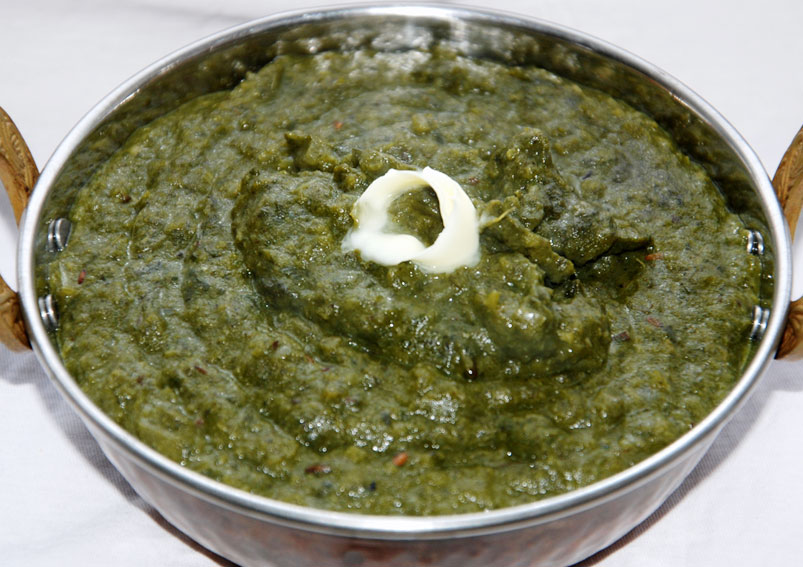 Sarson ka saag is the world famous delicacy. The recipe is a Punjabi cuisine and best accompanied with Makke ki roti (corn bread). It is made with the green mustard leaves and unquestionable healthy for all ages.
Ingredients
2 BunchesMustard Greens (fresh)
1 BunchSpinach Greens (fresh)
1Onion (chopped)
1Tomato (chopped)
1 inchGinger (grated)
1-2Green chillies (as per taste)
2-3 tablespoonMaize flour (corn meal)
Saltto taste
1-2 tablespoonGhee or butter (optional Oil)
Directions
Wash all the leaves under running water.
Chop the leaves roughly and put in a pan with little water.
Close the pan with lid and put on flame.
Cook on medium heat for few minutes.
Mash the leaves with the help of tomato masher.
Now add maize flour in the saag.
Stir finely and closed the pan.
Cook for another few minutes and then switch off the flame
Now, heat ghee in a pan.
Put ginger, onion, tomato and green chilies.
When they are soft, add the saag in it.
Stir for 2 minutes.
Garnish with coriander leaves and serve hot.
You can add maize flour as per your taste, if you want a thicker gravy then add more. Serve it with Makke ki roti (corn bread) or naan. Also, Mustard green leaves are a rich source of nutrition. Try one another Punjabi style curry.
-Nandini Chauhan
This Recipe Rate :
(0) Reviews