Healthy Dry Mix fruits Laddu Recipe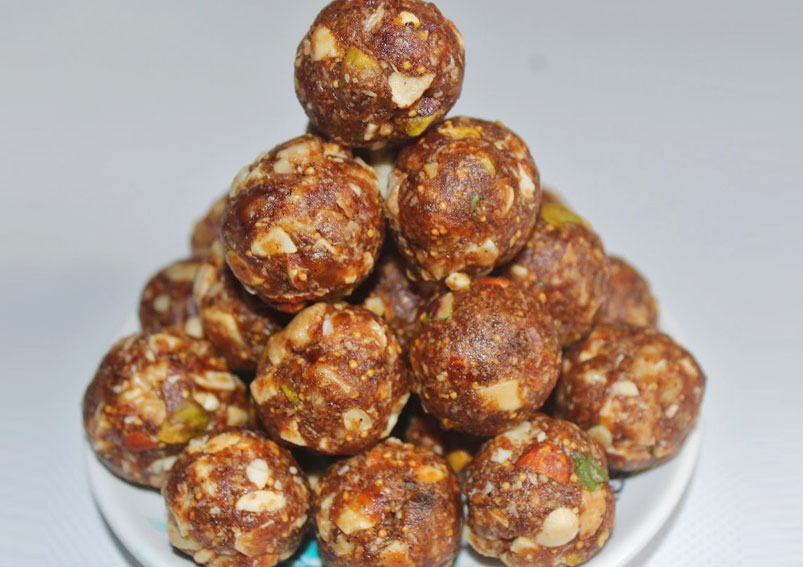 Dry fruit laddu are specially prepared for pregnant women and new moms because, it is good for nursing mother and it also increases feed for the baby, but anybody can have these laddu as a good source of health.
Ingredients
½ kgMix nuts, dates and dry coconut
½ kgjaggery or palm sugar/ palm Jaggery
Few tablespoonsTiny rock sugar (Optional)
½ teaspoonGreen cardamom powder
1 teaspoonGhee
Directions
Combine all the nuts in a blender and blend them roughly, also chop dates.
Take a heavy bottom pan and heat ghee.
Put the blended nuts, seeds, coconut and roast them for 3-5 minutes.
Now add the chopped date's cardamom powder and fry them for a few minutes.
Put grated jaggery and 2 tablespoons water in another heavy bottom pot.
Place the pot on the low heat, and let them melt.
Filter this syrup.
Now, add 1 tablespoon ghee into the syrup and continue to boil it for some time
Now, pour this syrup to the roasted nuts and mix it well.
Cook it for some time on a low flame, insure the flame is low to avoid burning.
Now, switch off the flame and let the mixture come down warm or at room temperature.
Now, make small balls and keep it an airtight container.
If you are using rock sugar, then add it during frying nuts. You can carry these laddu during long journeys and can have them as half meal.
-Nandini Chauhan
This Recipe Rate :
(1) Reviews
shanmuk

I love this laddu