Vanilla Mango Mojito Cocktails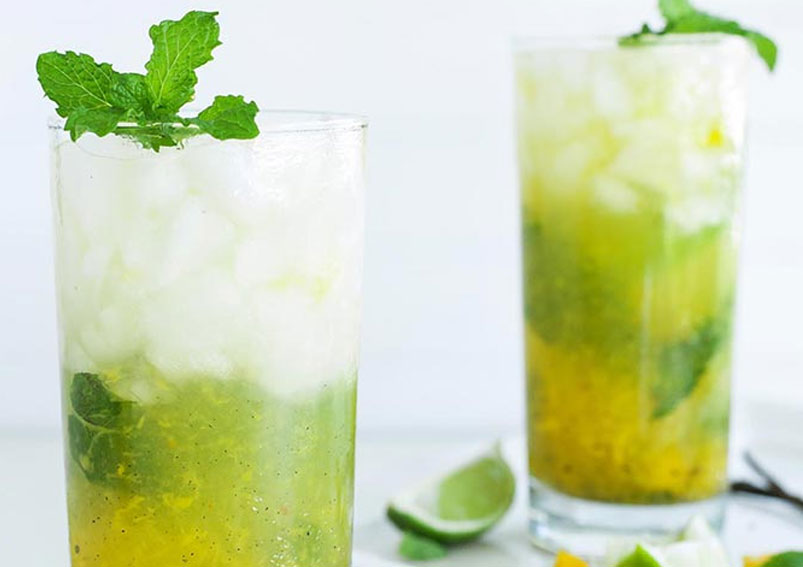 Everyone wants a chilled refresh drink in the hot summer. So, to refreshing people with drinks, here comes with a special Mango Mojito cocktail recipes added with vanilla to beat the heat out. This will surely a refreshing drink and is perfect for evening cool breeze for relaxation. Check out the recipe making process.
Vanilla Mango Mojito
A classic refreshing Vanilla Mango Mojito cocktailis is easy to make and you will love the delicious taste.
Ingredients
2 ouncesWhite rum
1 cuplime, juiced
waterSparkling water
1⁄2 cupSimply Organic Vanilla Bean(scraped )
2 tspDiced mango
2 tspOrganic sugar
FewMint leaves
Directions
Add vanilla bean seeds, diced mango, organic sugar and mint leaves, in a plain glass.
Pour approximately 3 tablespoons sparkling water in the glass to cover the ingredients.
Mix the ingredients together until the sugar dissolved.
Make sure that vanilla bean seeds are distributed throughout the glass.
Add lime juice, white rum and ice cubes in the glass.
At end, add some mint leaves for flavor.
Now, it is ready to drink.
The Vanilla Mango Mojito is a kind of tropical drink, that you can enjoy in the evening times and in a cool breeze. The freshly squeezed lime juice, fresh mint leaves, club soda can give you a refreshing mood.
Check for more Cocktails Recipes
- Mayuka
This Recipe Rate :
(0) Reviews